GSTZen Chrome Extension
GSTZen Chrome Extension displays information about a Tax payer (GSTIN) such as Return filing status, GSTR 3B Summary, Electronic Ledger Balances; all in one console.
Note – The GSTZen Chrome Extension will only work while you are in the GST Government Portal.
Install GSTZen Chrome Extension


Information displayed on GSTZen Chrome Extension
The GSTZen Chrome Extension captures various information in it's different tabs. This section explains what informatio is captured in each tab in the GSTZen Chrome Extension.
Overview
Details – The Details tab displays Legal information of the GSTN in this tab. Information such as Legal Name of the Business, Trade Name, Registration Date, Taxpayer Type etc.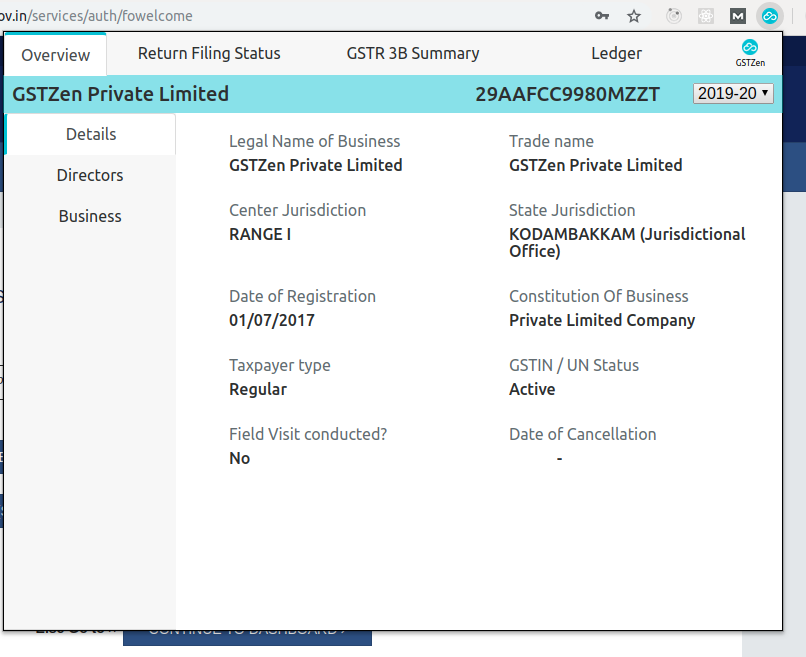 Directors – Name of the Proprietor/Director(s)/Partner(s)/Promoters(s) of the business.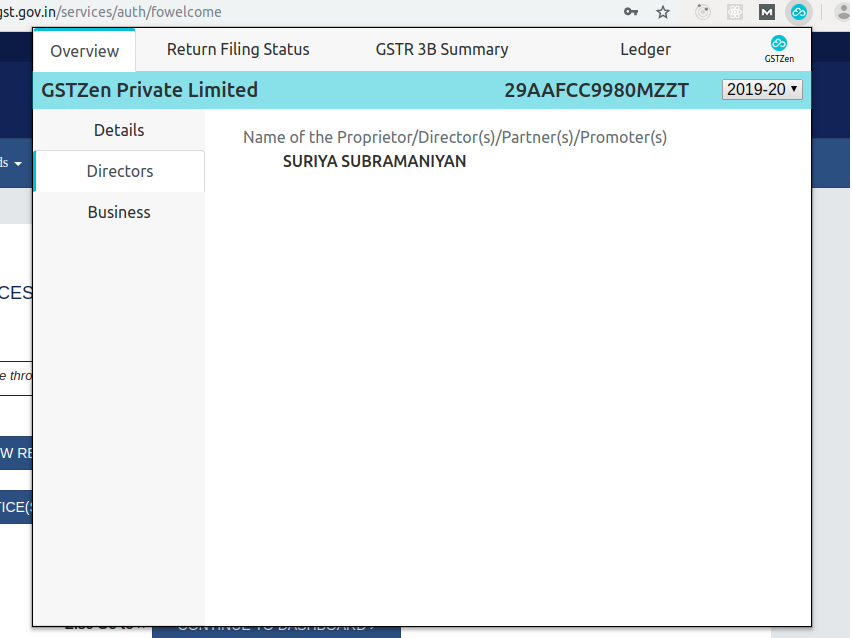 Business – This tab lists the Nature of the Business's activities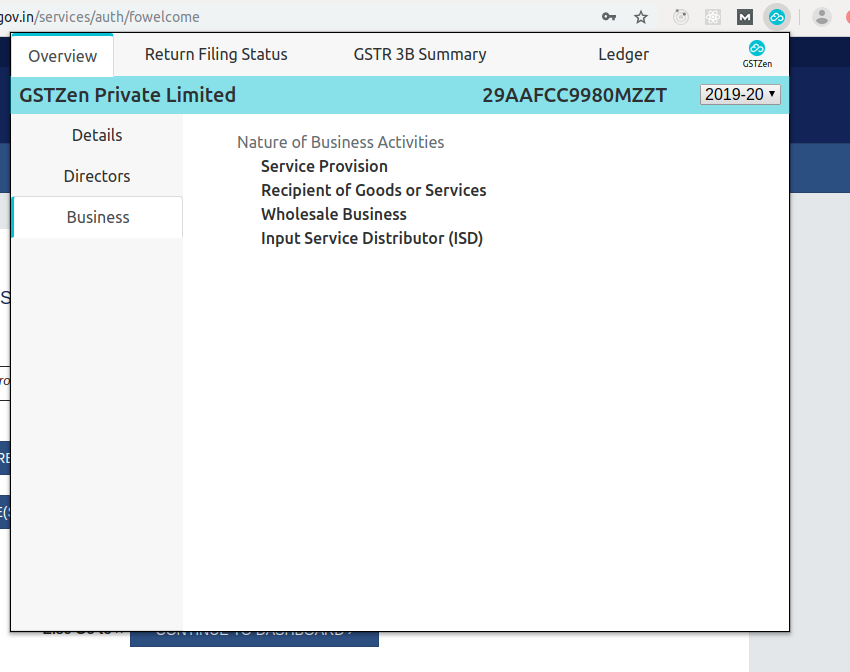 Return Filing Status
This tab displays the Filed Date and ARN of GSTR 1 and GSTR 3B.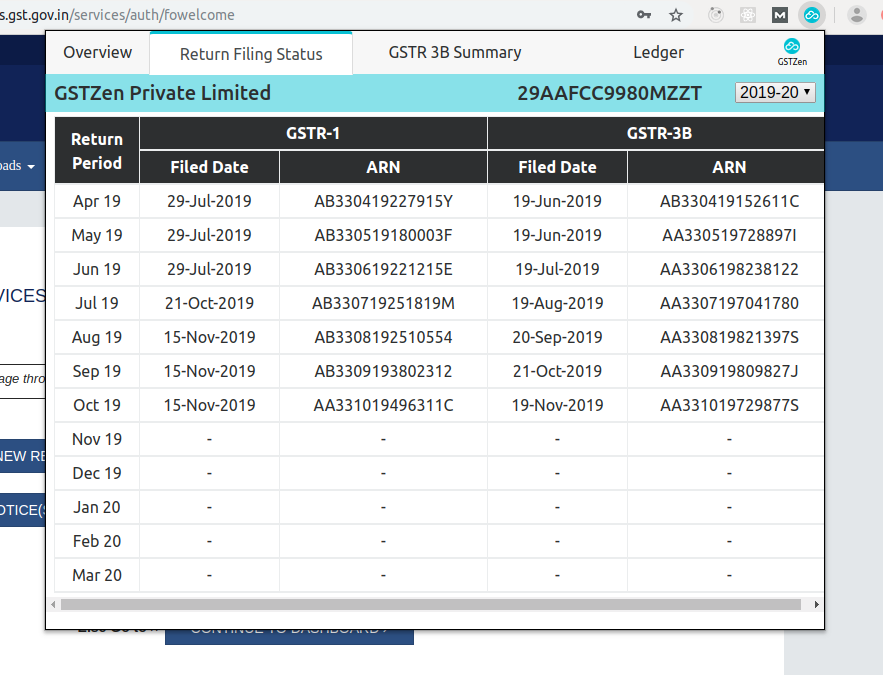 GSTR 3B Summary
Charts – The Chart tab displays 3 different Bar Graphs that displays the Monthly Turnover, Gross ITC Available, Gross ITC v/s Net ITC
You can Hover the mouse (Move the mouse) over any graph to view the specific values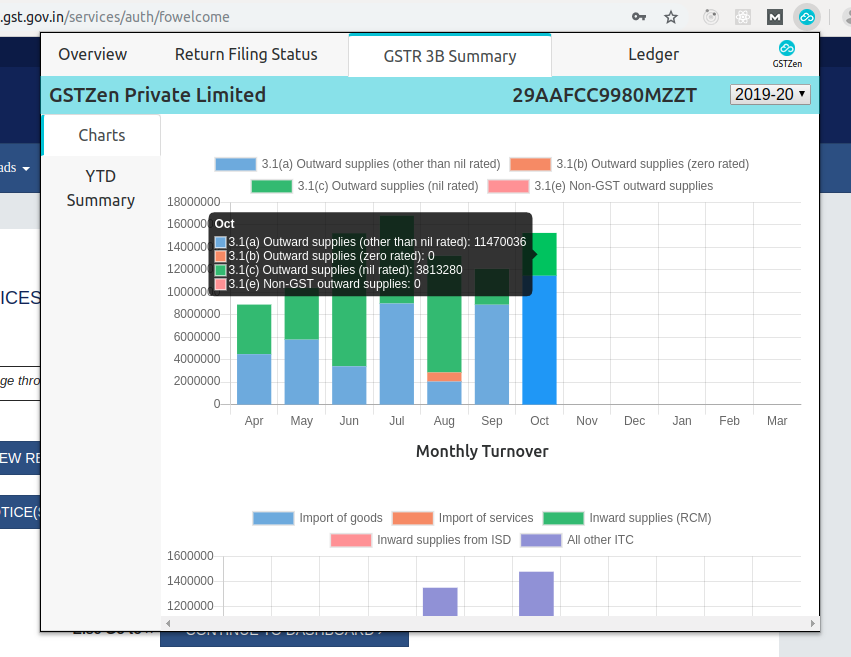 To view Return Filing Status, GSTR 3B Summary and Ledger data from different financial years, please click on the Drop down menu on the top-right corner of the extension.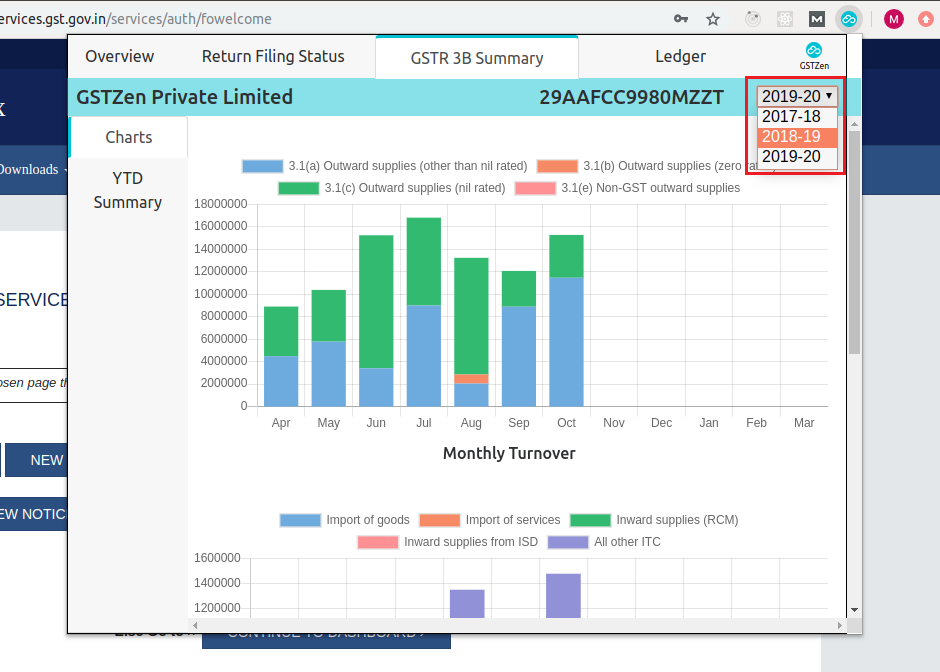 You can also choose to Strike Out values you may not want to view as per your requirement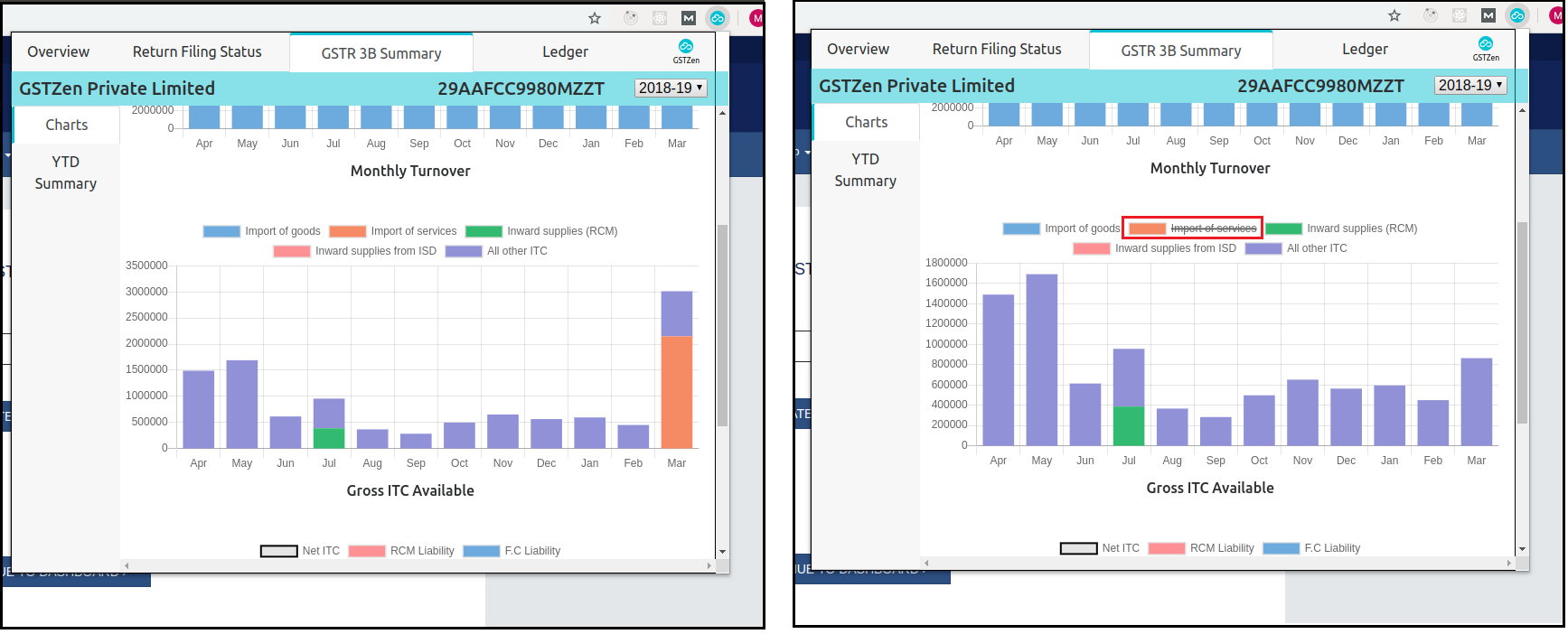 YTD Summary – The table displays a GSTR 3B year-to-date summary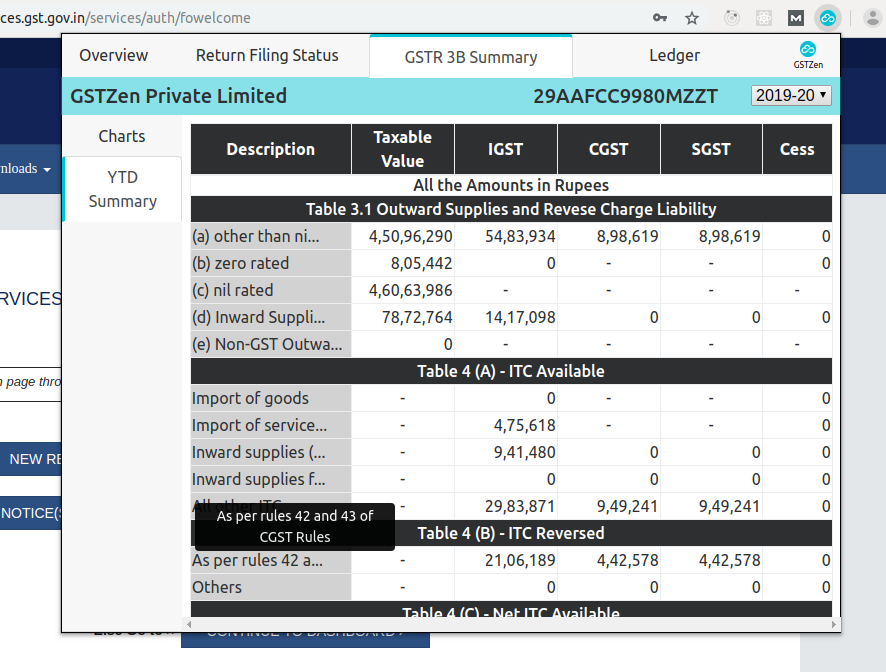 Ledger
This tab displays the Liability, Cash and Credit according to the Electronic Ledger Summary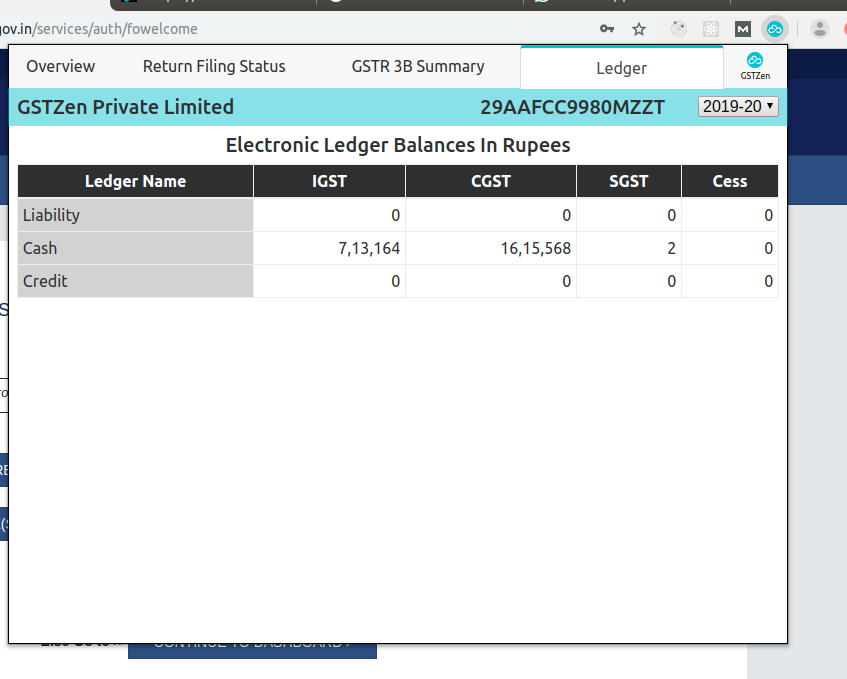 Disclaimer
The tab explains about the tool and Data Security GSTZen follows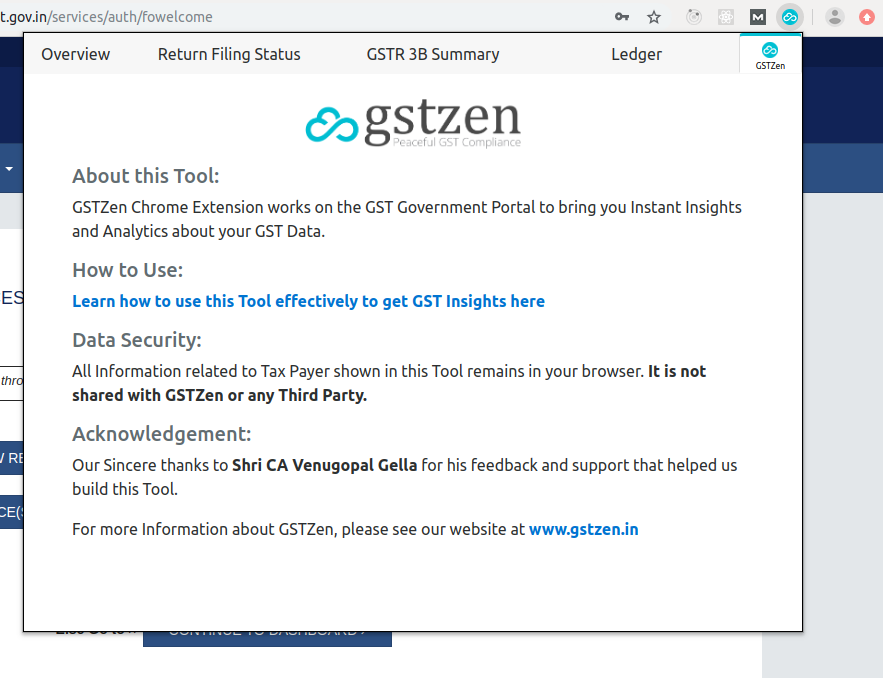 Frequently Asked Questions about the GSTZen Chrome Extension
Why is my GSTZen Chrome Extension showing a loading page?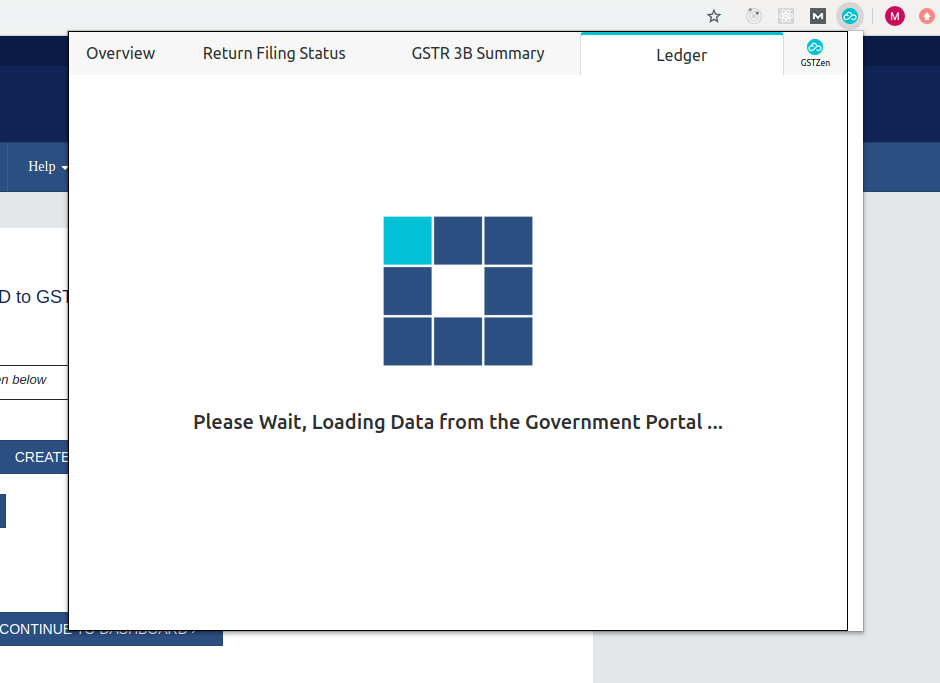 Answer – This page occurs if there is a delay in gathering information from the government portal. This could happen if you are viewing details of the GSTN for the first time or if there is an issue with the government portal.
GST details will automatically appear in the GSTZen Chrome Extension once the loading is complete.
I'm getting a message – Kindly login to the Government Portal and view this screen again. What does this mean?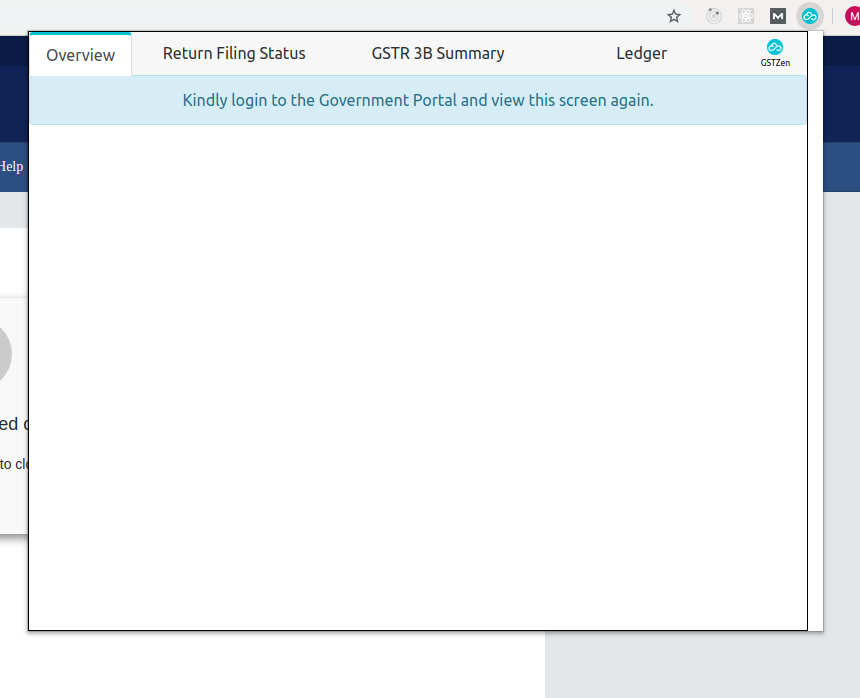 Answer – This means that you are not logged into the GST portal. Please login to the government portal and then view the page for GST information.