Adding funds to your GSTZen wallet.
Add funds to GSTZen to make use of great features offered by the software. GSTZen helps is easy filing of GSTR1, GSTR 3B , GSTR 9 and GSTR 9C. We also provides comprehensive reconciliation reports like Books vs GSTR 2A, Books vs GSTR 2B and Books vs GSTR1. GSTZen also helps users in implementing and generating e-invoices. GSTZen is one of the best GST software out there mainly because of the quality of its Excel-based reports. Quick, accurate, and flexible reports let you view and analyze your GST and E-Way Bill data along various dimensions.
Log-in to your GSTZen account using your registered email address.

On the top right corner, click on Logged in as

Click on Billing
Scroll down to Add Funds section

Choose an amount of your choice (OR) Enter a custom amount feasible to you

Click on Add

Click on Click here to Make Payment

Choose a feasible payment method from the various options available and enter the payment details

Click on Pay
You will now see the amount in your wallet balance.
Note –
We also accept NEFT/RTGS payments to our bank account.

GSTZen will issue a B2B Invoice within 2 business days if you provide your GSTIN number. The invoice will be sent to the primary email id for the account. The invoice will also be available on the billing page under payment history for the user to download.

Funds you add to GSTZen Wallet is valid for 1 year.

Click on Billing to open your billing dashboard
---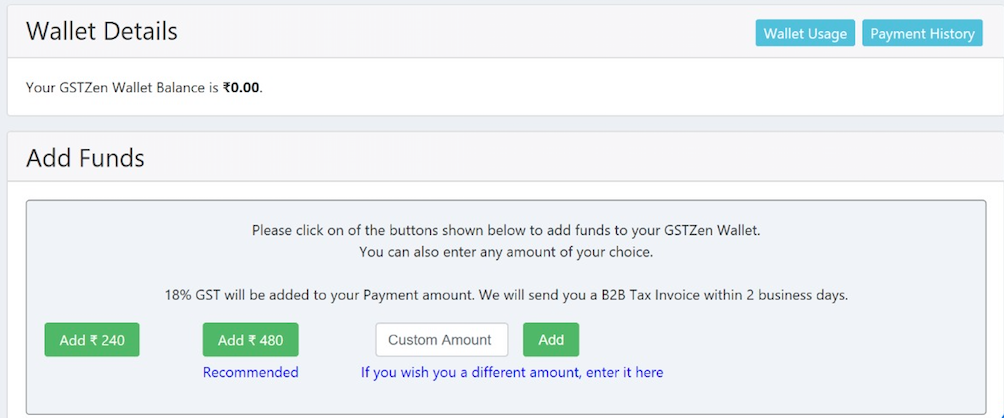 Add funds to your GSTZen wallet