Update DSC
I have renewed my DSC. How can I update my DSC with the GST Portal?
To update your DSC with the GST Portal, perform the following steps:
1) Access the https://www.gst.gov.in/ URL. The GST Home page is displayed.
2) Login to the GST Portal with the valid credentials.
3) Go to My Profile link.

4) Click the Register/ Update DSC link.

5) The Register Digital Signature Certificate page is displayed. In the PAN of Authorized Signatory drop-down list, select the PAN of the authorized Signatory that you want to update.
Note:
Before you update your DSC at the GST Portal, you need to install the emSigner utility. The utility can be downloaded from the Register DSC page. DSC registration is PAN based and only Class 2 and Class 3 DSC are accepted at the GST Portal.
6) Click the UPDATE button.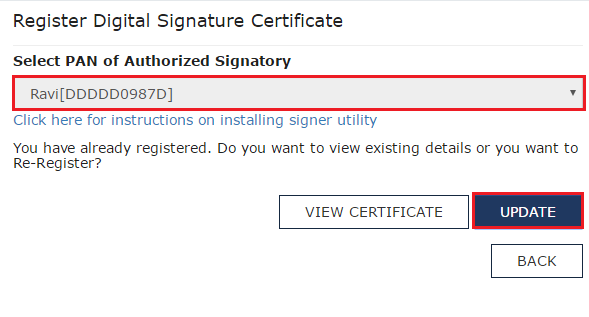 7) Click the CONTINUE button.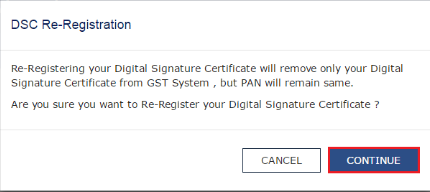 8) Select the certificate. Click the Sign button.
A successful message that "DSC has been successfully updated" is displayed.