Sign up to create a new GSTZen account
Welcome to GSTZen. Sign up to GSTZen to make use of great features offered by the software. GSTZen helps is easy filing of GSTR1, GSTR 3B , GSTR 9 and GSTR 9C. We also provides comprehensive reconciliation reports like Books vs GSTR 2A, Books vs GSTR 2B and Books vs GSTR1. GSTZen also helps users in implementing and generating e-invoices. With the Government mandating E-Invoicing, GSTZen is creating E-Invoicing solutions for various ERPs and Billing systems such as Tally, SAP, Oracle, Microsoft Dynamics, etc. GSTZen will also be able to help you integrate with your In-House or Custom ERP in order to create E-Invoices. If you are using any of these systems, you can get started right away. You may read our documentation on How to prepare your business for eInvoicing for more details. The software also provides JSON to excel conversions and GSTIN and HSN validators. The following steps will allow you to create an account with us.
Visit https://my.gstzen.in/

Scroll down to the Sign up at GSTZen section.

Enter your Contact information, Name of your firm, and Account type.

Click on Signup for GSTZen
You can also enter a Referral Code if you have one. This code will ensure that they receive credit for referring you.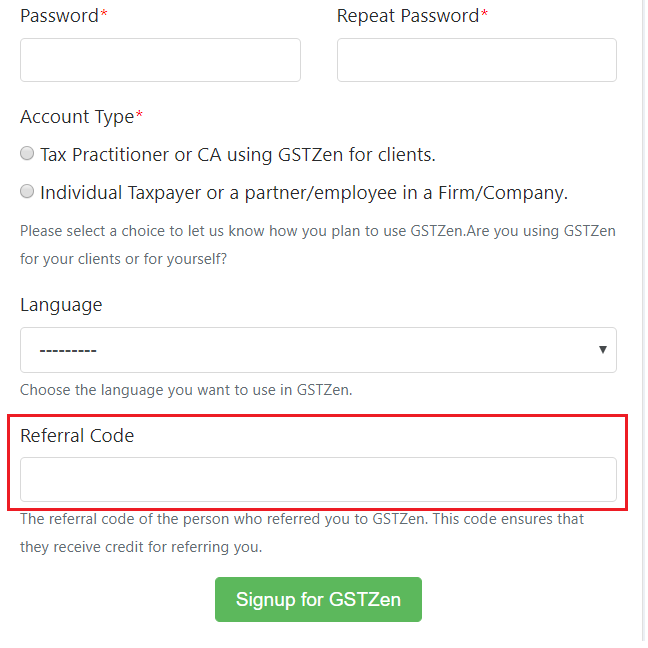 This video demonstrates how to signup and create an account with GSTZen.