e-Invoice in SAP Business One – GSTZen Live Demo
Looking for
e-Invoice SAP solutions
? We've got you covered. With GSTN mandating e-Invoicing since 1st October, a constant question we get asked by our customer is
How do I create an electronic invoice?
GSTZen has developed e-Invoice solutions that will help you create E-Invoices through an Excel connector or your ERP.
This article explains in detail, how you may create an e-Invoice through SAP Business One.
GSTZen e-Invoicing Integrations
GSTZen supports a variety of methods through which you may generate e-Invoices:
GSTZen Billing application – You may directly punch-in invoices in GSTZen's e-Invoice Billing Application

e-Invoice Excel Connector – Import invoices from Excel

Popular ERPs – Integrate with ERPs such as Tally, SAP, Oracle, Microsoft NAV/Dynamics and fetch your invoices directly from your current ERP to create E-Invoices

Custom ERPs – Should you have a custom or in-house ERP in your organization, GSTZen will fetch invoices directly from your database and create e-Invoices
e-Invoicing sandbox portal account
Kindly register your GST number at the e-Invoicing Sandbox Portal and obtain a Username, Password, Client ID and Client Secret. These credentials are essential to creating an e-Invoice.
Please refer to the article on How to create e-Invoicing sandbox portal account for information on creating an account with the e-Invoicing sandbox portal
You may also watch the video to understand how to create an account with the e-Invoicing sandbox portal.
e-Invoice SAP B1 Integration with GSTZen
1. Login to e-Invoice API Portal
Under this step, you will log-in to the government API portal through GSTZen. Please note that this is a one-time activity and does not have to be repeated.
Click on e-Invoicing on the GST home page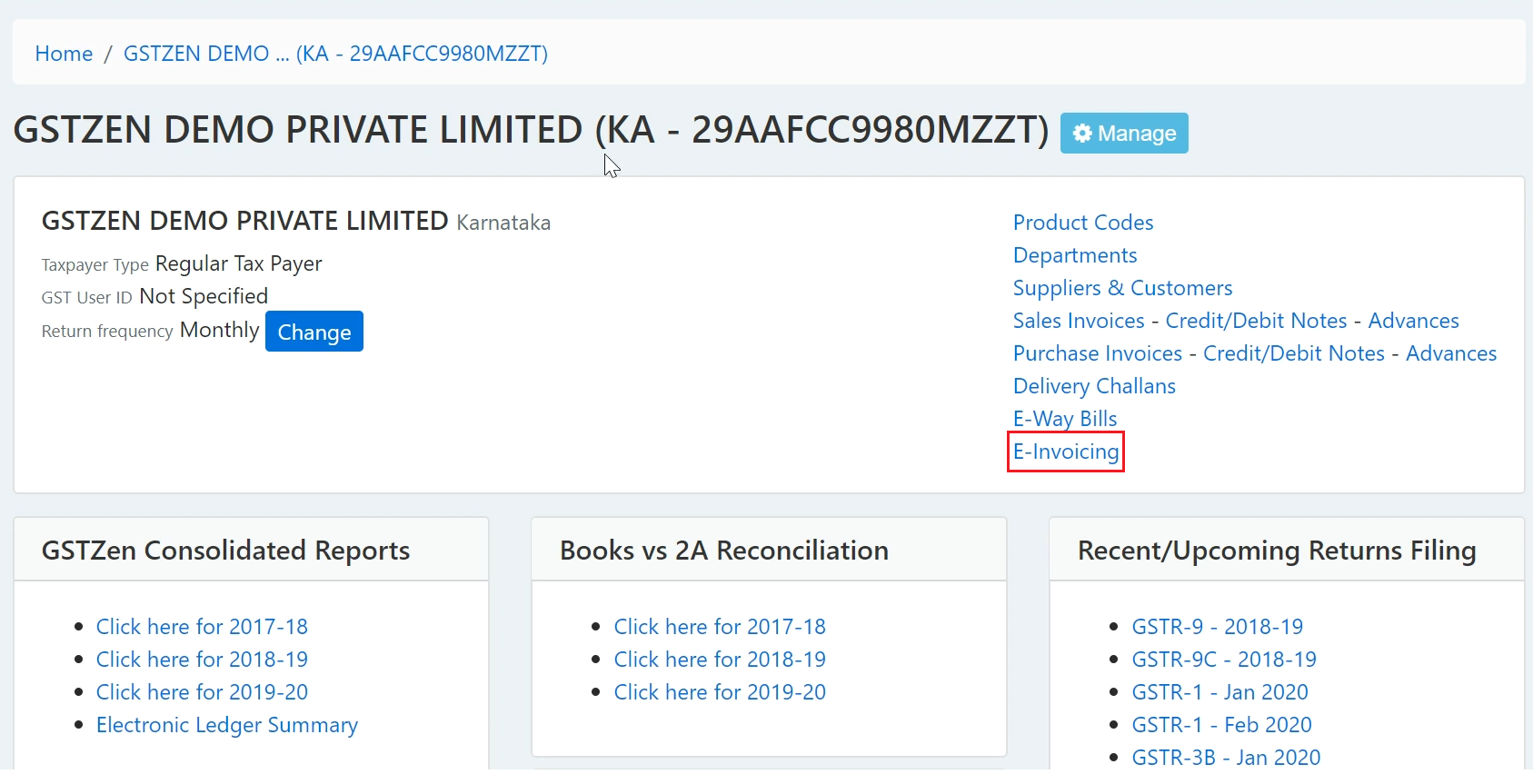 Click on Tally/SAP Integration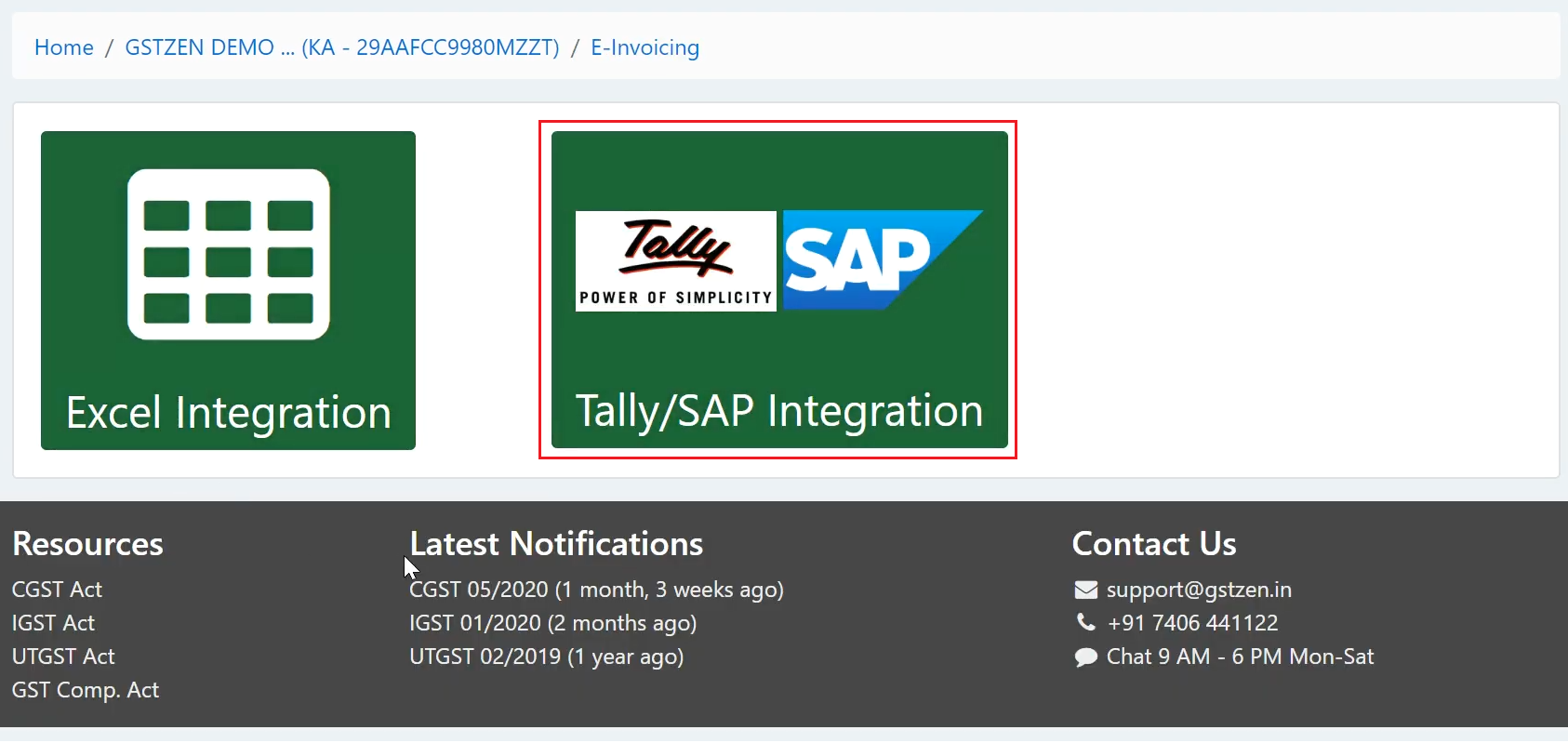 Click on Login to the e-Invoice Portal

Enter the API Portal Username, API Portal Password, Client ID, Client Secret Key and click on Login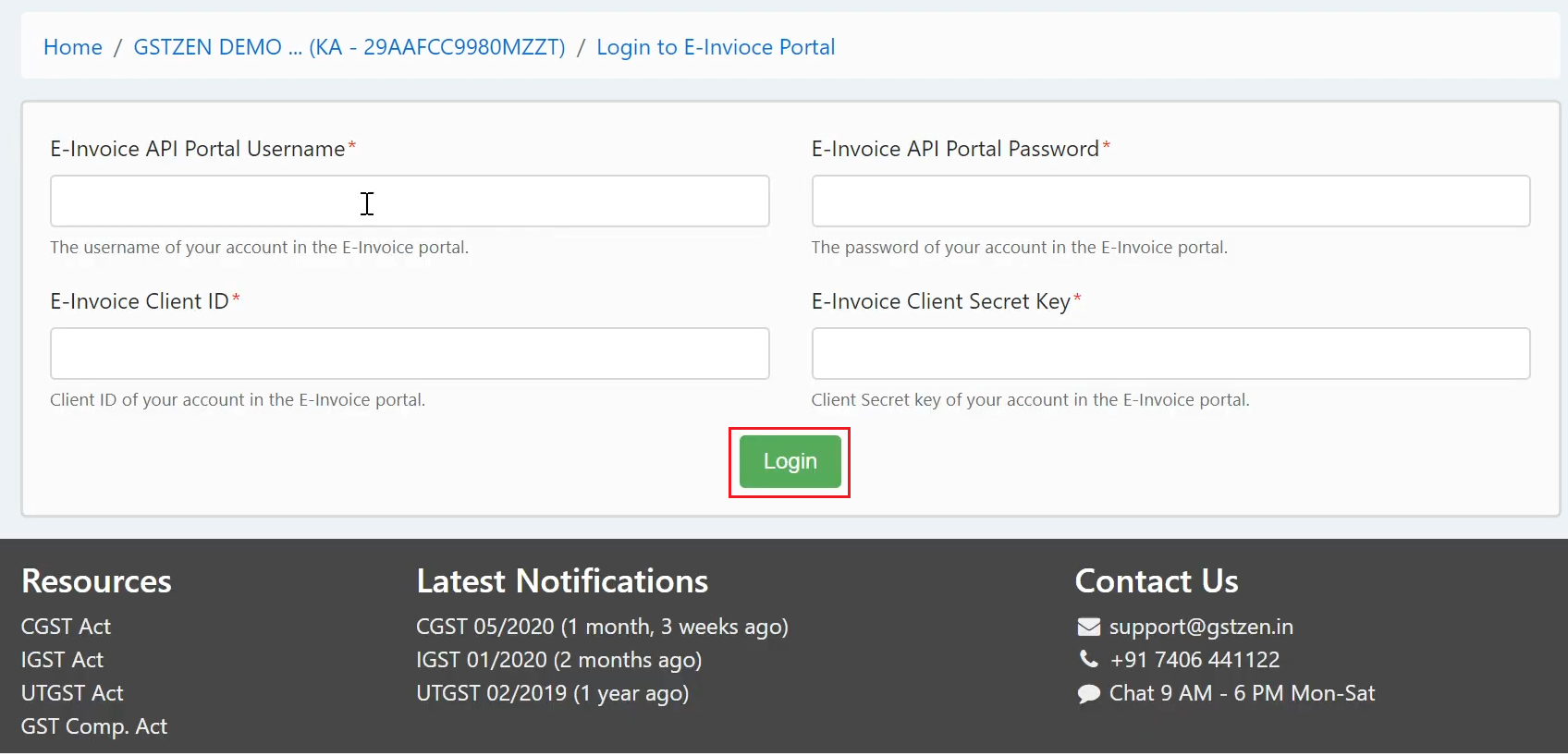 You are now successfully logged into the e-Invoicing API Portal.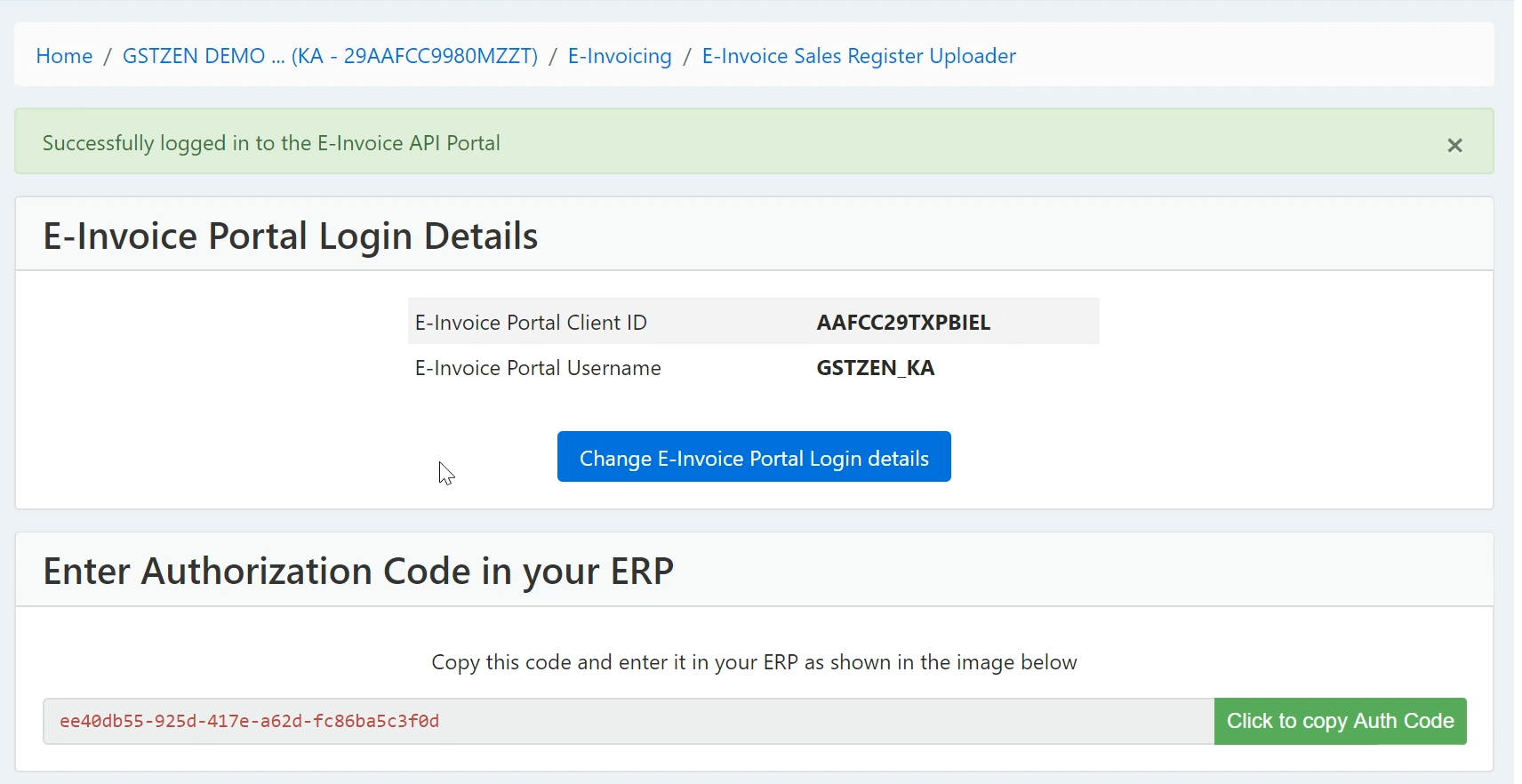 2. Enter the Authorization Code in your ERP
Enter the Authorization Code displayed in GSTZen software into your SAP B1 so that GSTZen can communicate with the ERP and create E-Invoices.
Note: GSTZen support or one of our e-Invoicing Integration Partners will help you with this step.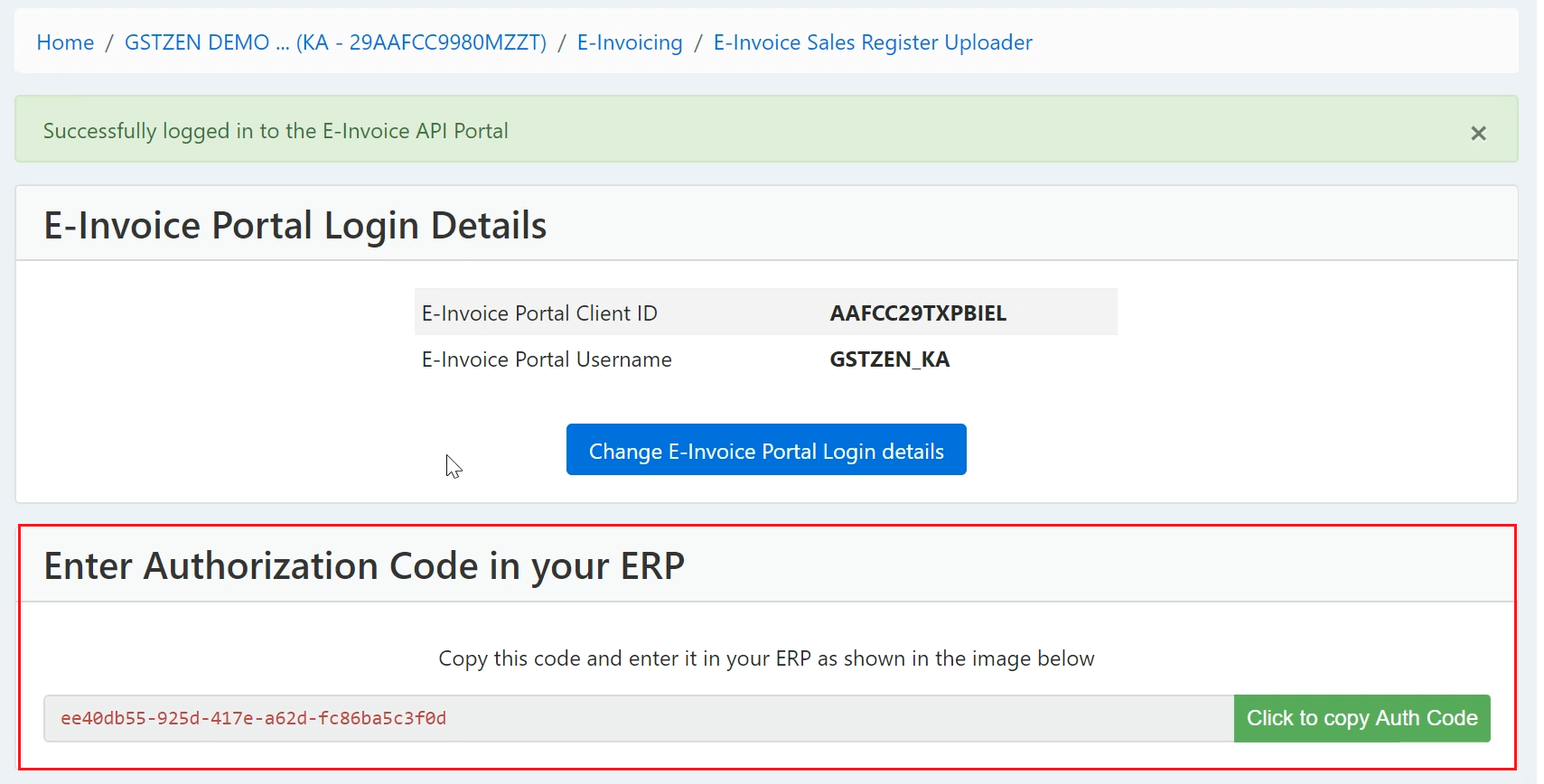 3. Prepare e-Invoice in SAP Business One
Click on A/R Invoice for Accounts Receivable Invoice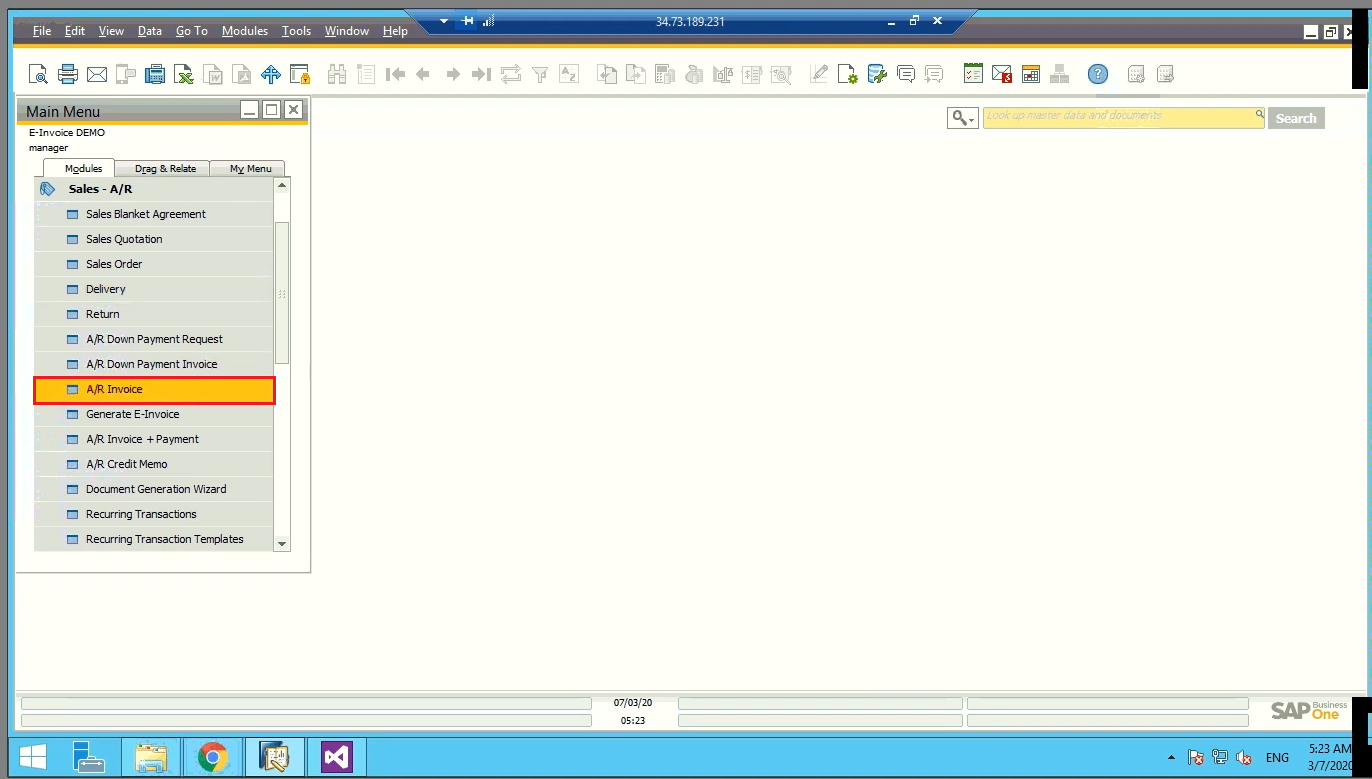 Enter the Customer information and Items in the invoice. Click on Add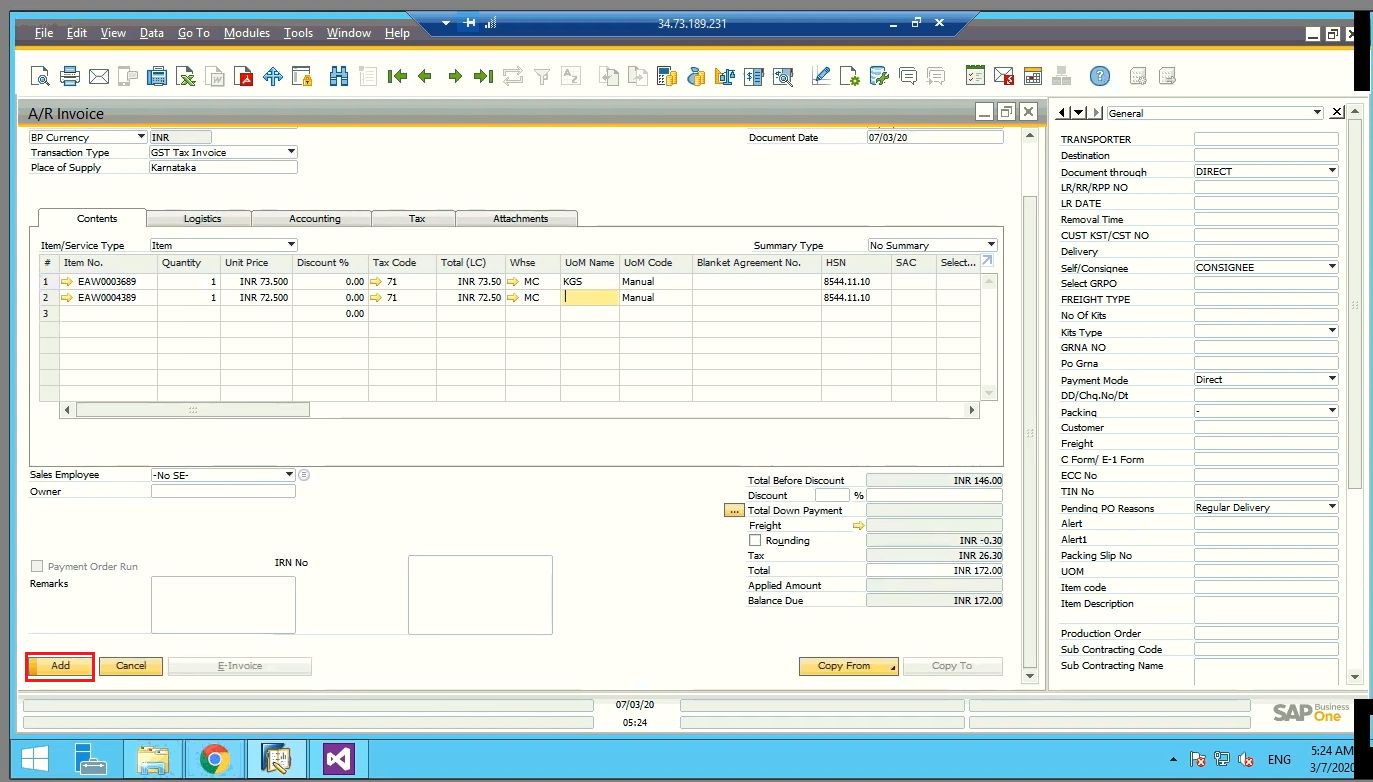 On the pop-up prompt, please click on Yes
Note: You would not be able to make changes to the invoice once it is added successfully.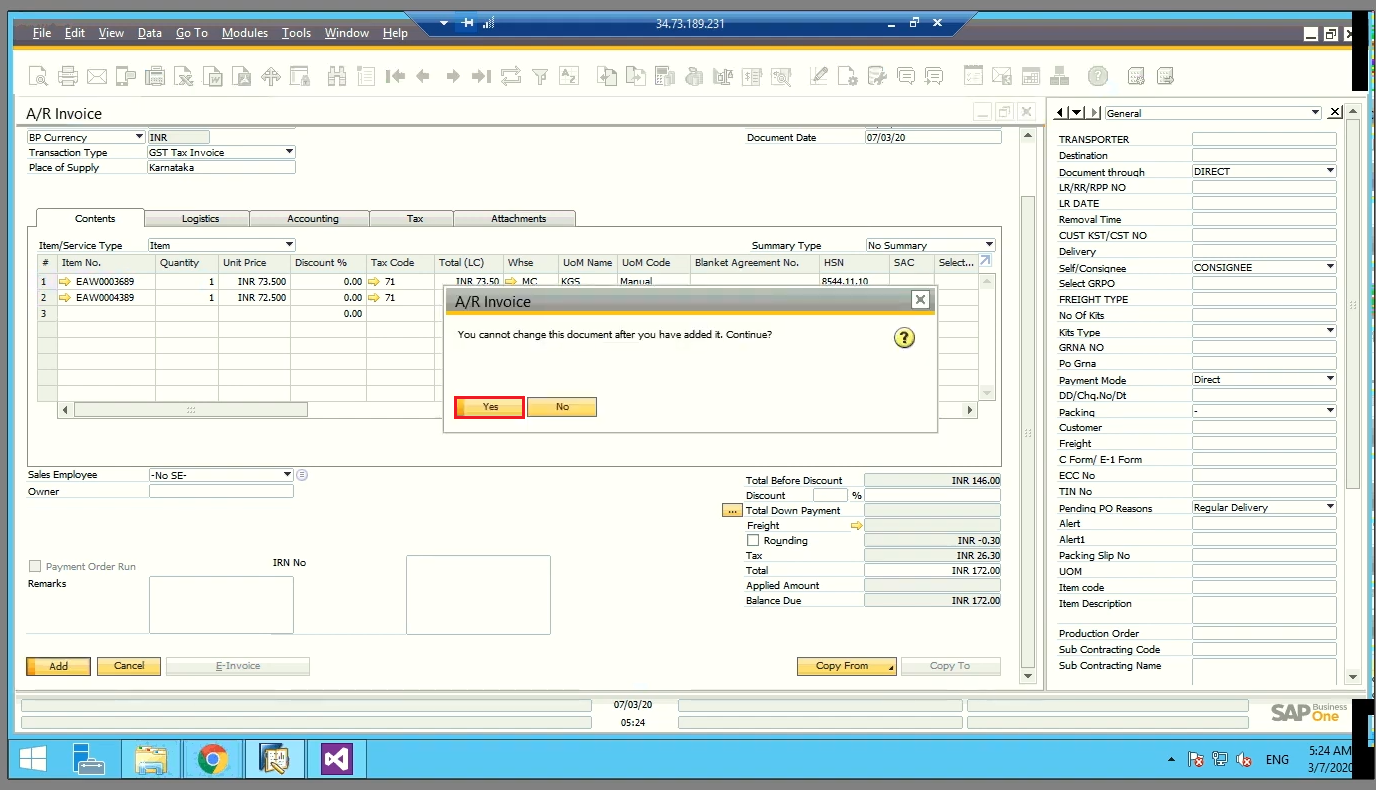 4. Create e-Invoice in SAP Business One
Once the invoice is successfully created, you will notice an additional menu at the bottom. Click on the e-Invoice option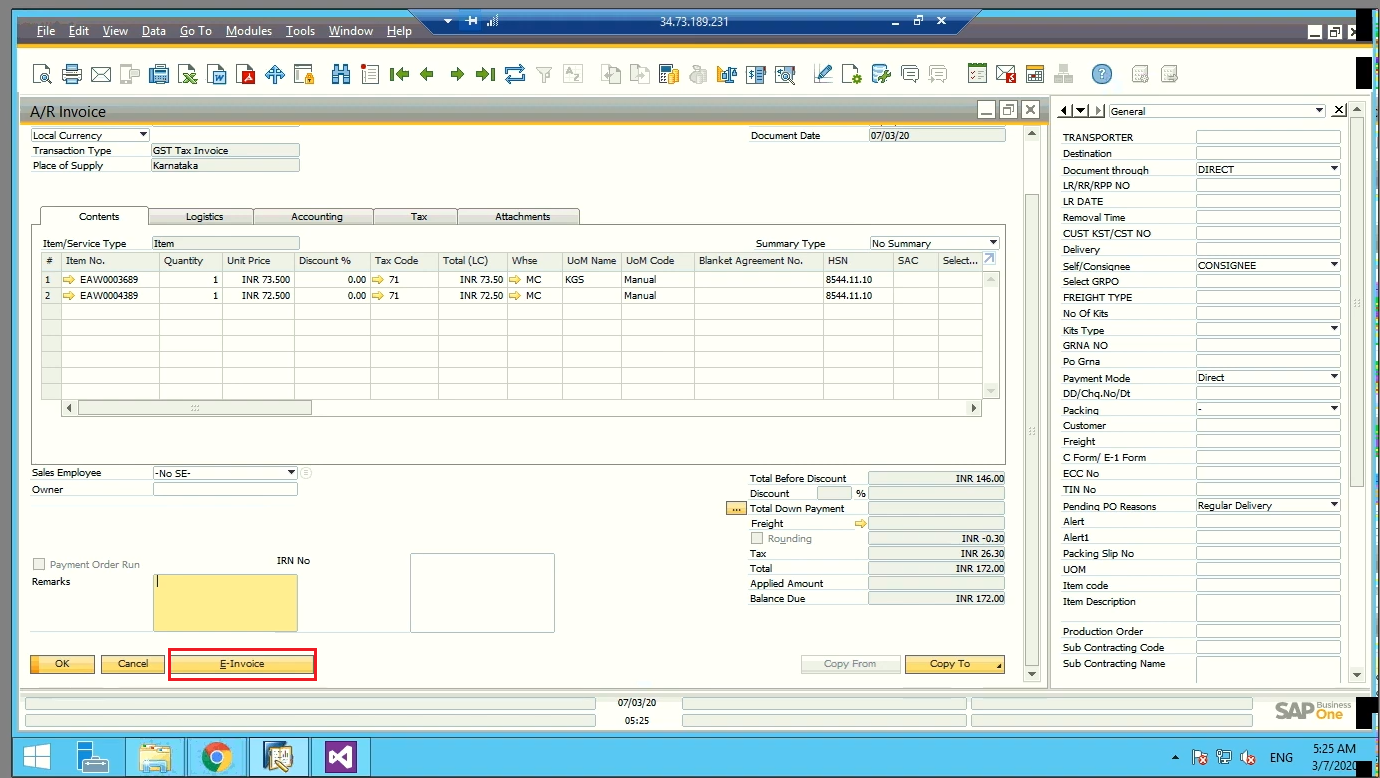 With the click on a button, GSTZen will collect the invoice details, visit the IRP portal, and create an e-Invoice. You will now see a message that says IRN generated successfully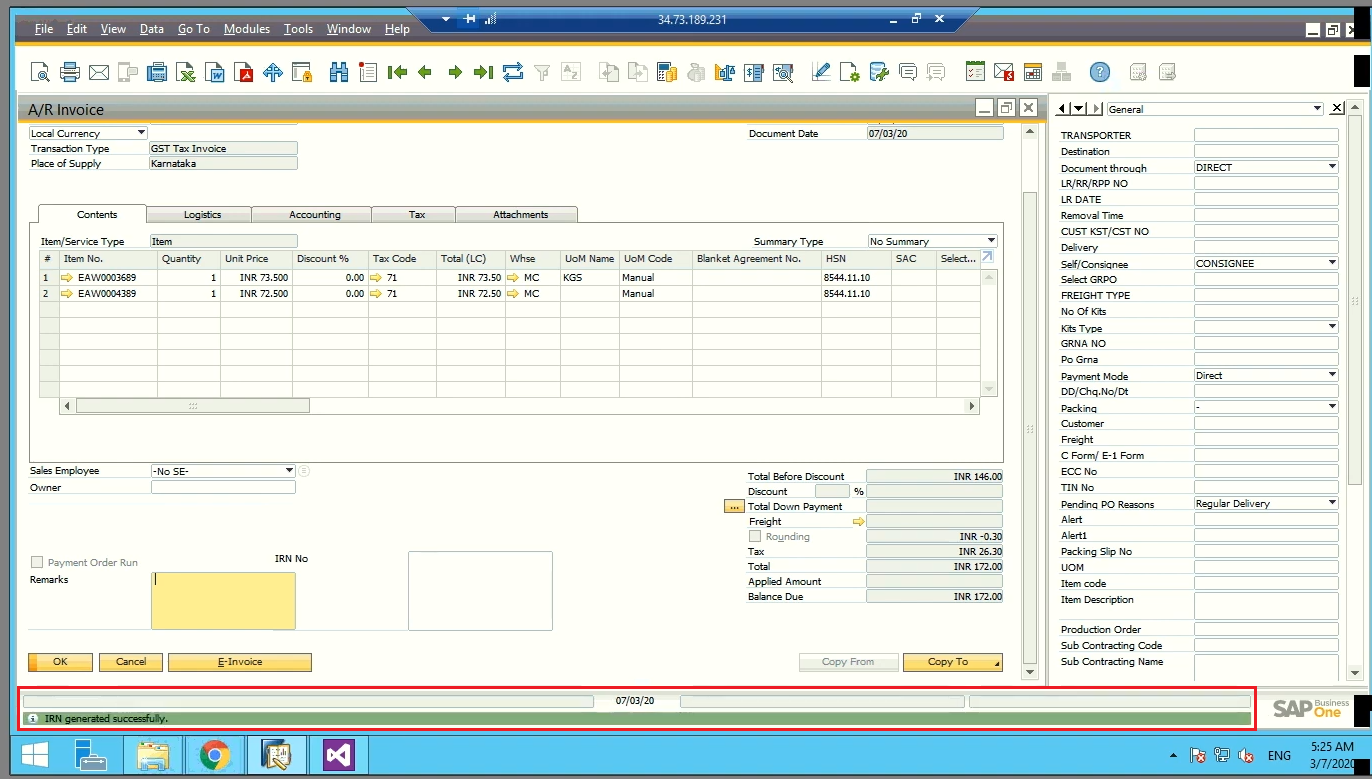 Refresh the page to view the 64 digit IRN number generated.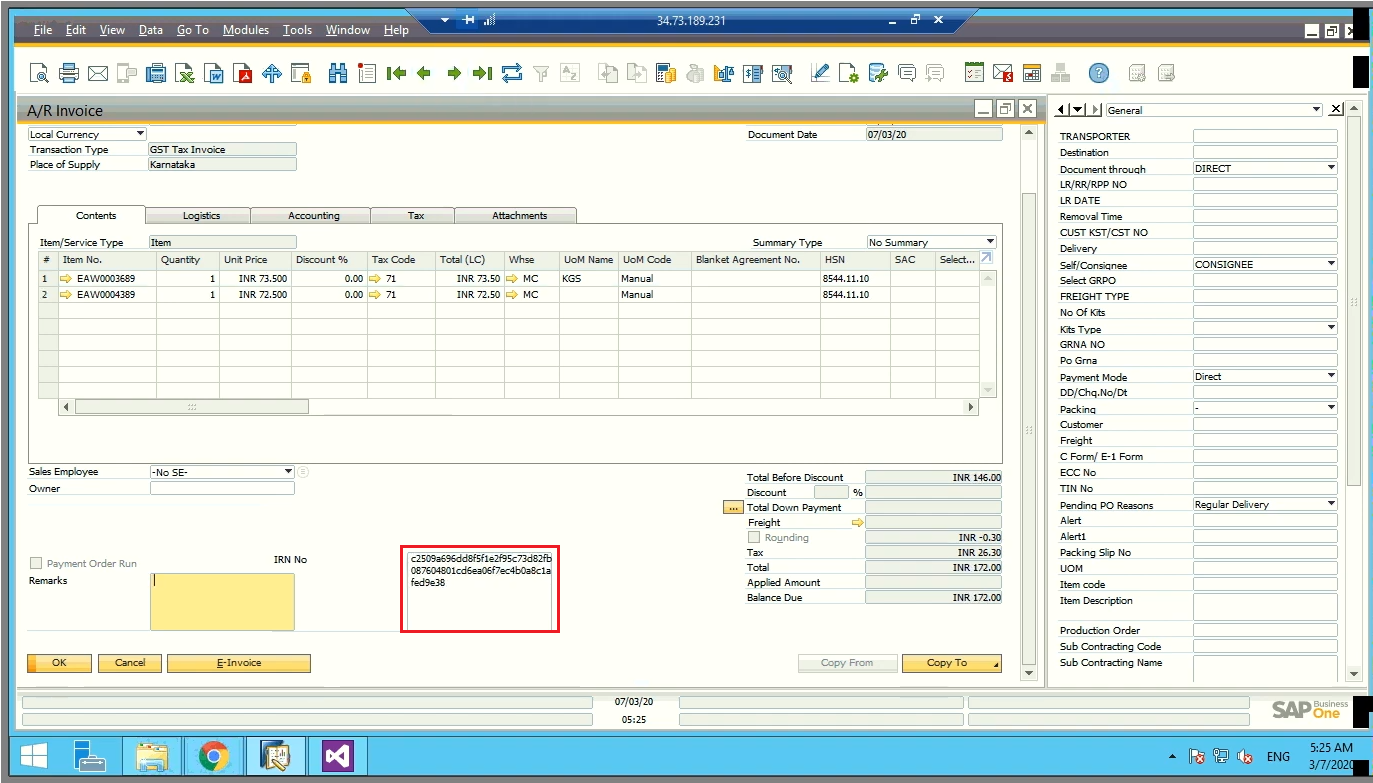 Once the e-invoice is generated, you will be able to view this e-invoice in the GSTZen portal. You may click on PDF to view this invoice in PDF format.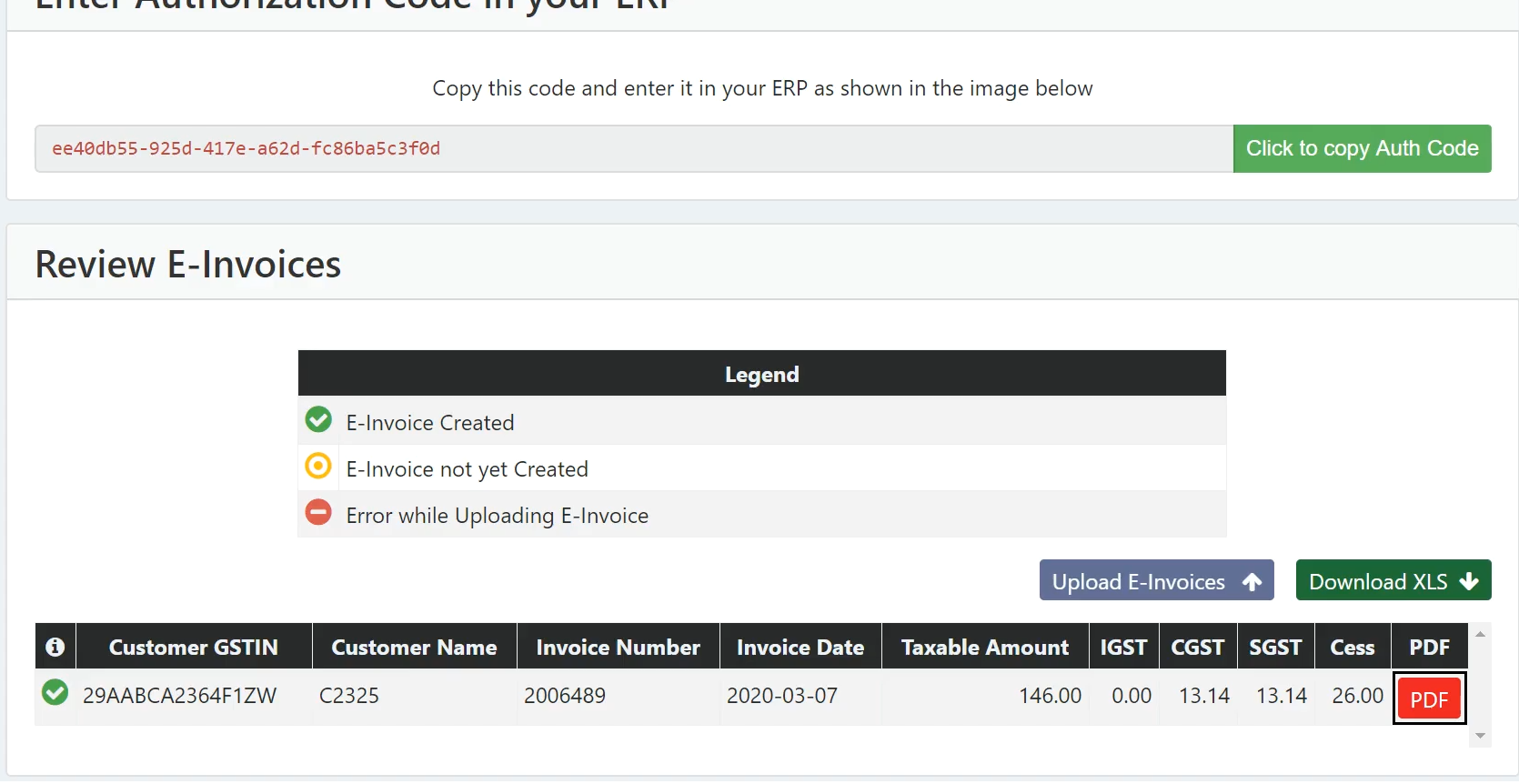 This e-invoice is stored in GSTZen's Sales Register permanently and you may view them anytime.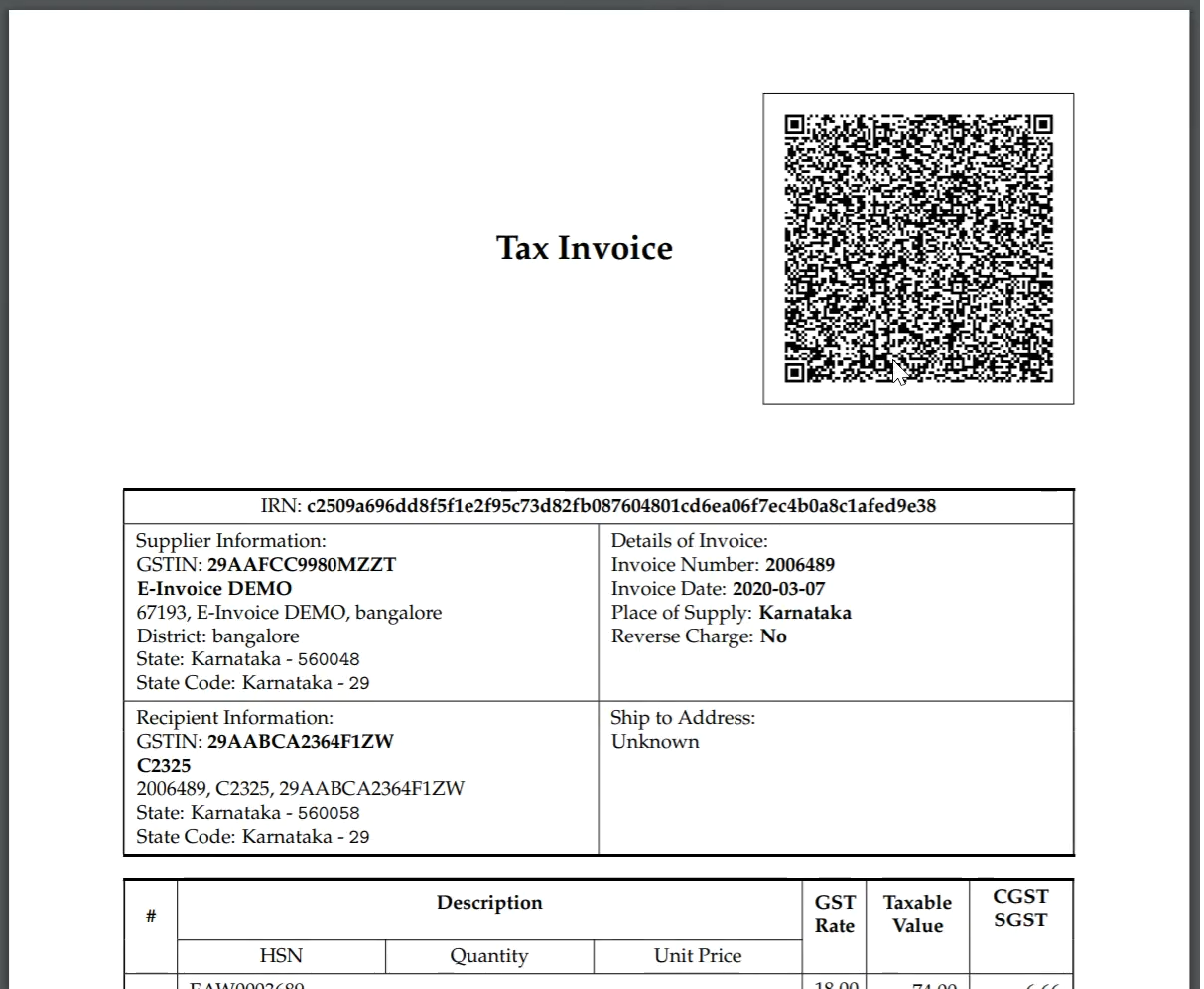 5. Creating Bulk e-Invoices in SAP Business One
You may also create e-Invoices in bulk through GSTZen's SAP B1 customization
On your SAP B1, click on the Generate e-Invoice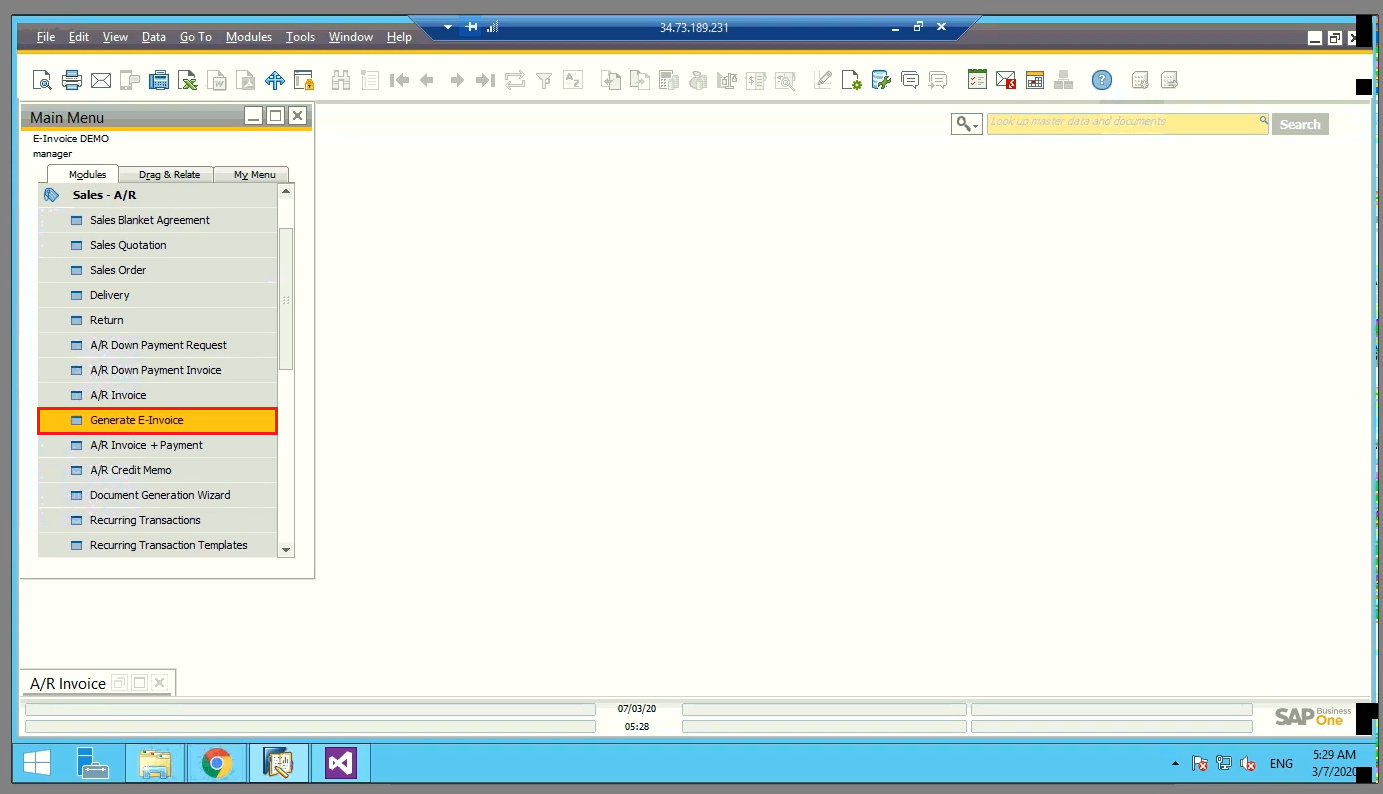 Enter the From and To date range and SAP B1 will show the list of invoices for which IRN is yet to be generated. You may select these invoices in bulk and click on Generate e-Invoice to generate IRN for all these invoices in one go.