GSTZen e-Invoice Excel Tool – Live Demo
GSTZen's e-Invoicing solutions software will help you create E-Invoices through an Excel connector or your ERP. This article provides an answer to the question – How does E-Invoice work? This article explains in detail, how you can create an e-Invoice using GSTZen's e-Invoice excel tool.
GSTZen E-Invoicing Integrations
GSTZen supports a variety of methods through which you may generate E-Invoices:
GSTZen Billing application – You may directly punch-in invoices in GSTZen's E-Invoice Billing Application

E-Invoice Excel Connector – Import invoices from Excel

Custom ERPs – Should you have a custom or in-house ERP in your organization, GSTZen will fetch invoices directly from your database and create E-Invoices

GSTZen will also be able to integrate with popular ERPs such as Tally, SAP, Oracle, Microsoft NAV/Dynamics and fetch your invoices directly from your current ERP to create E-Invoices
E-Invoicing sandbox portal account
Kindly register your GST number at the E-invoicing sandbox portal and obtain a Username, Password, Client ID, and Client Secret. These credentials are essential to creating an E-Invoice.
Please refer to the article on How to create E-Invoicing portal account for information on creating an account with the E-Invoicing portal
You may also watch the video to understand how to create an account with the E-Invoicing portal.
GSTZen e-Invoice Excel Tool
1. Login to E-Invoice Portal
Under this step, you will need to enter the credentials you received from the E-Invoice Portal.
Click on E-Invoicing on the GSTZen Home page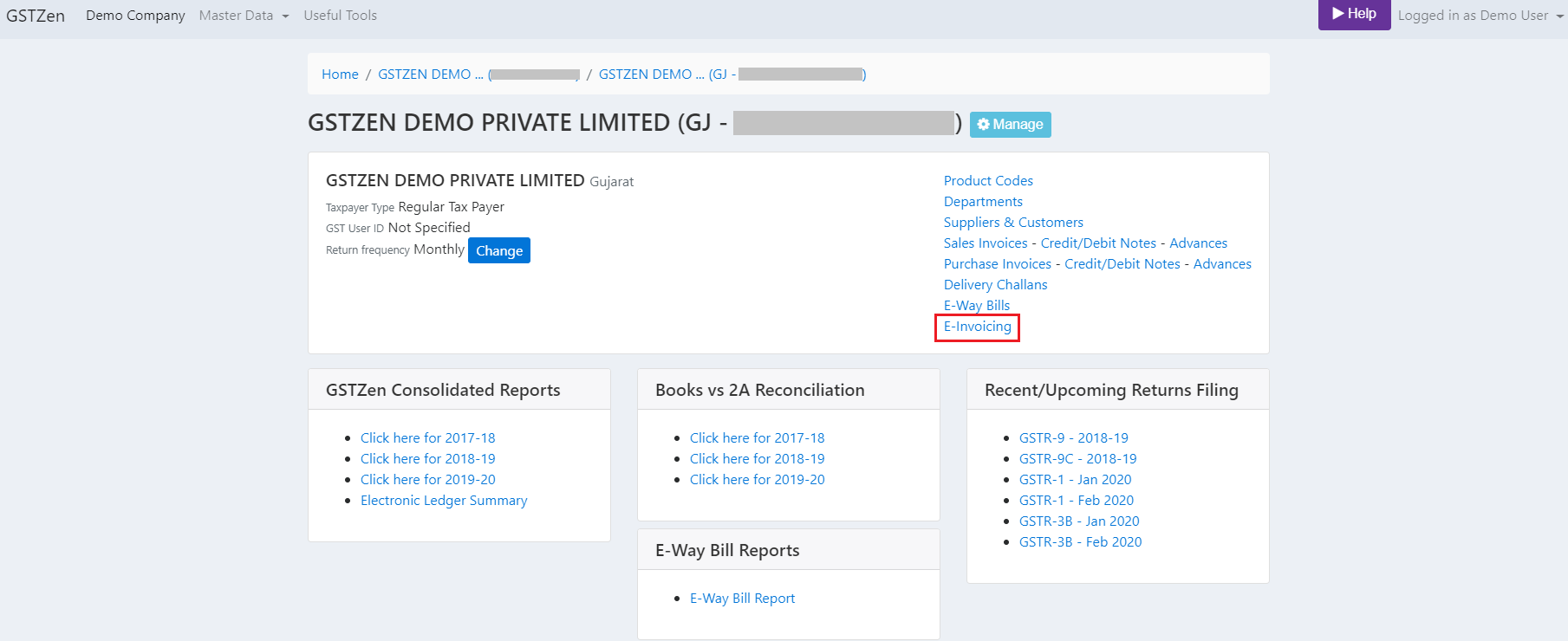 Click on Excel Integration
Click on Login to the E-Invoice Portal

Enter the E-Invoice API Portal Username, E-Invoice API Portal Password, E-Invoice Client ID, and E-Invoice Client Secret Key
Click on Login

2. Download GSTZen XLSX Template
Note: This is a Macro-enabled Excel file. Please ensure to click on Enable Editing as soon as you download the Excel file.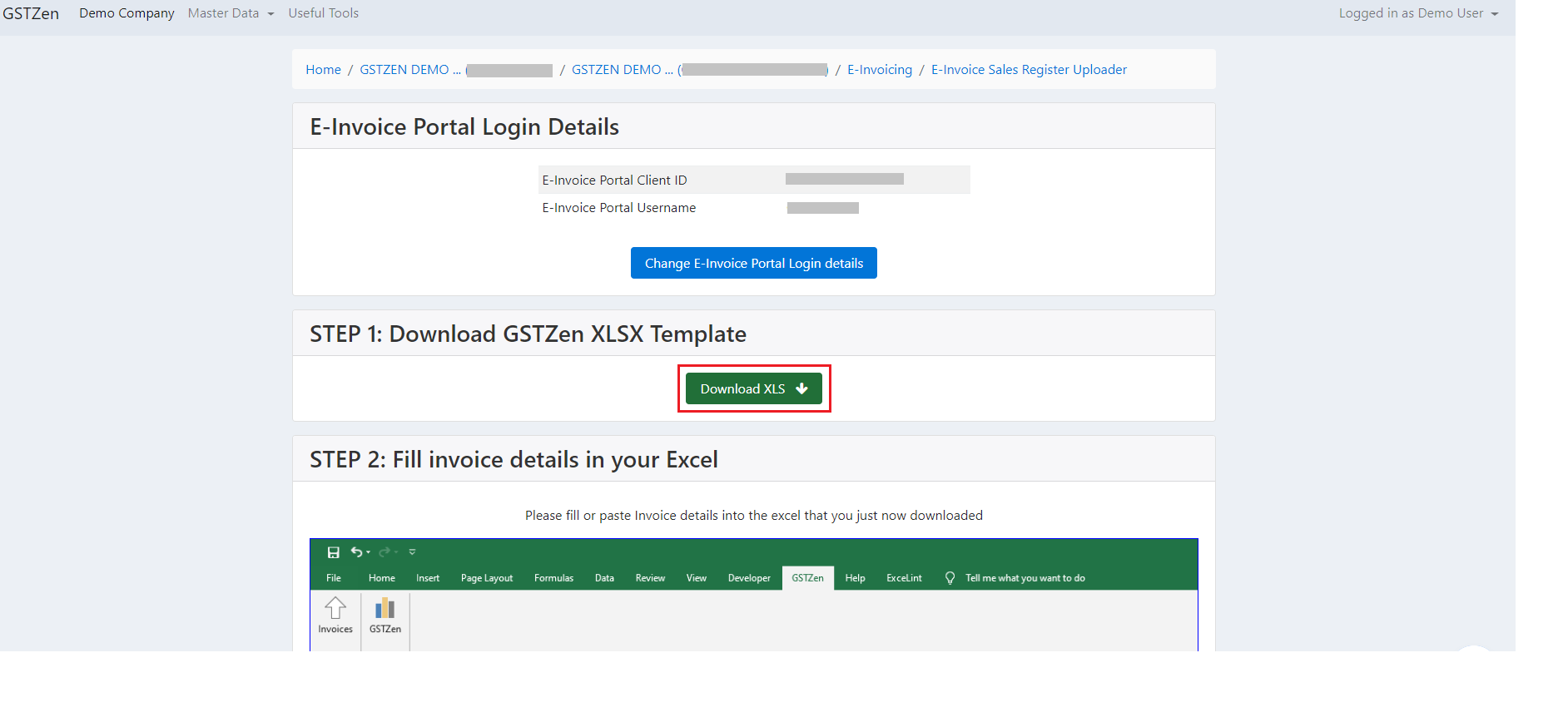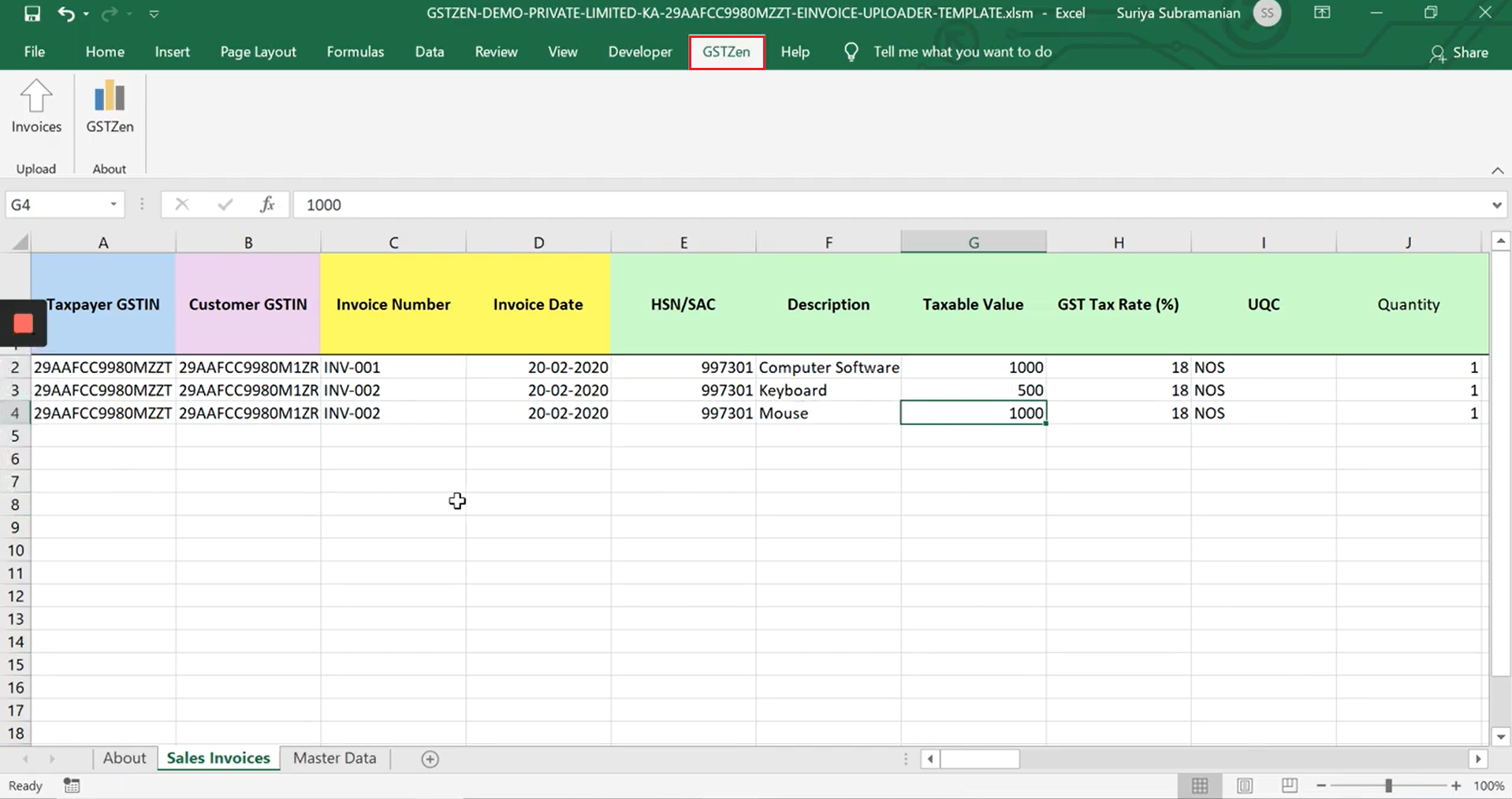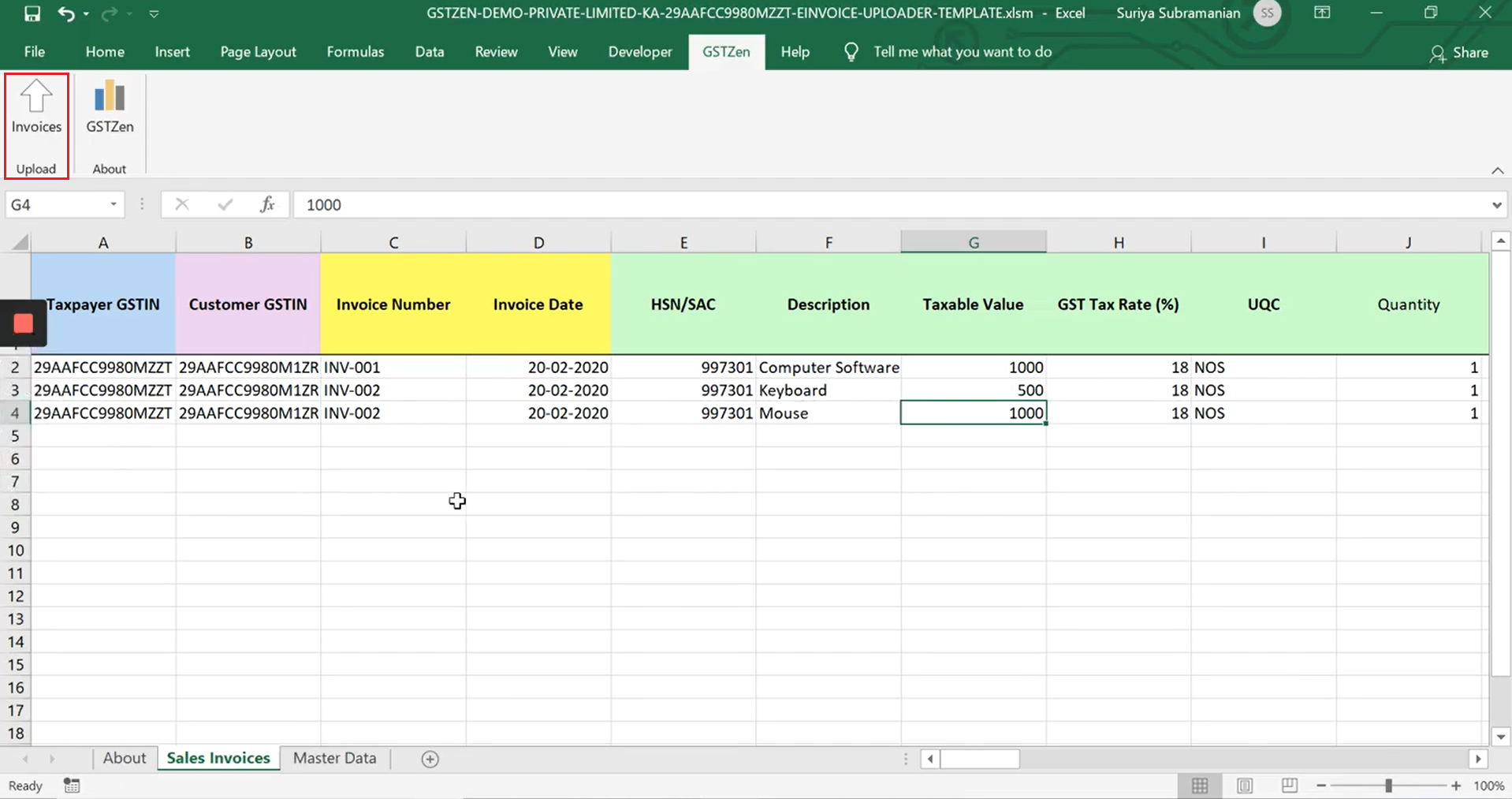 3. Upload Invoices to GSTZen
Note: GSTZen will validate the entered data and request an authorization code.
GSTZen will now ask for an Authentication Code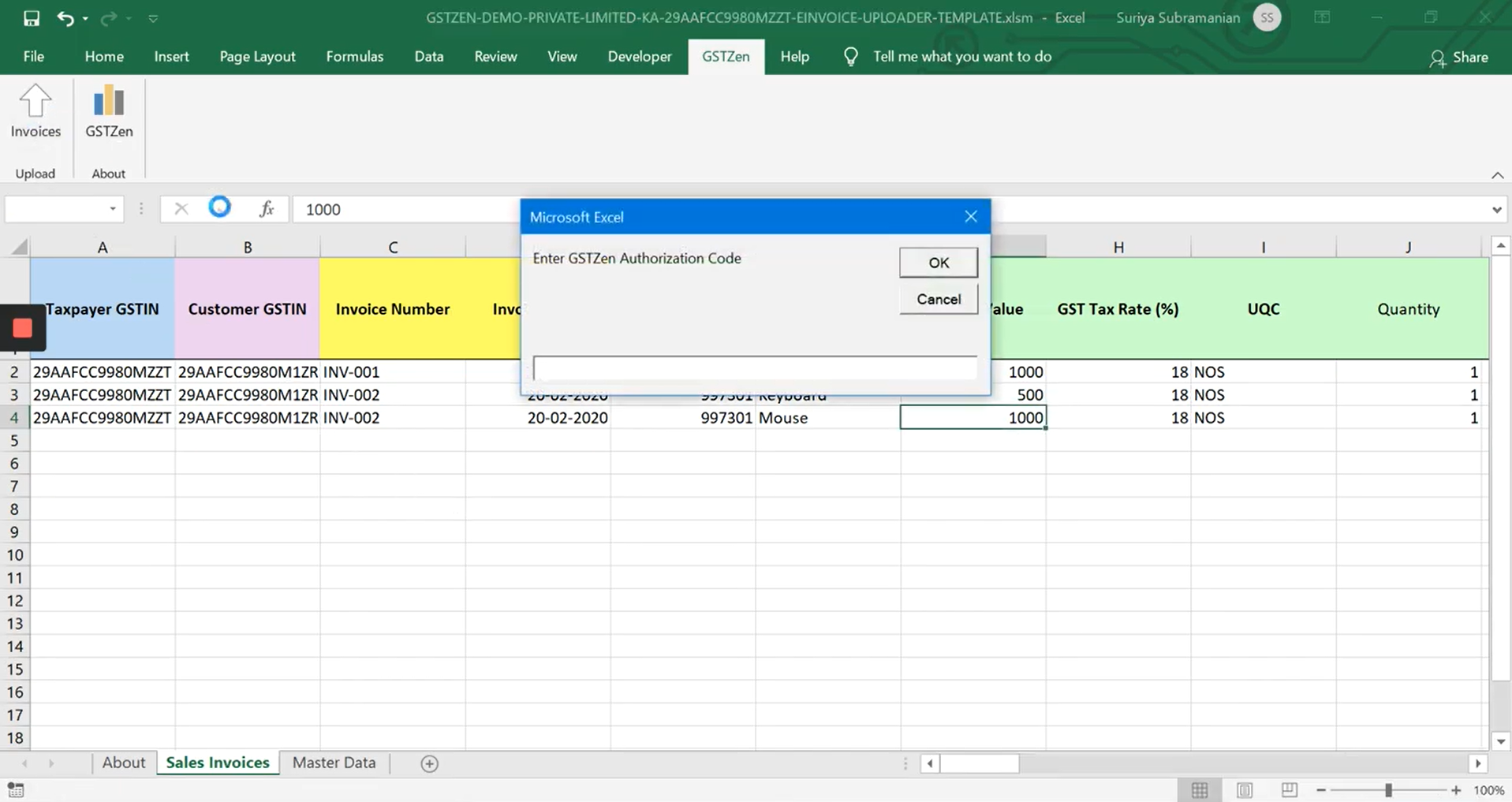 On the GSTZen software, click on Click to copy Auth Code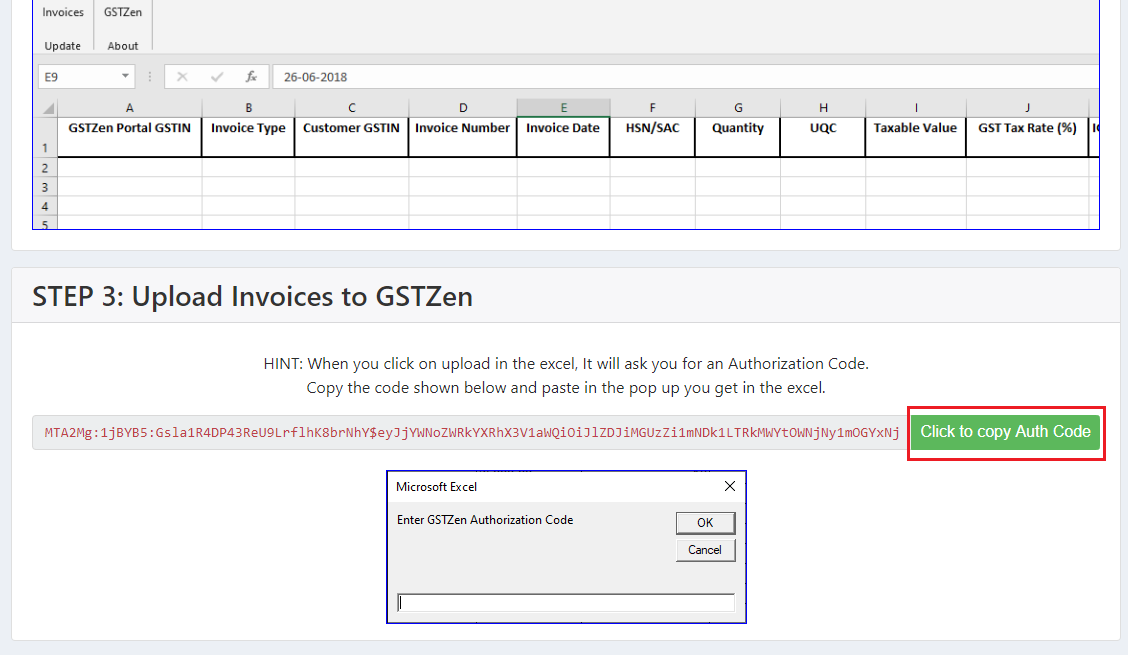 Paste the Authorization Code in the dialogue box in the Excel sheet and click on OK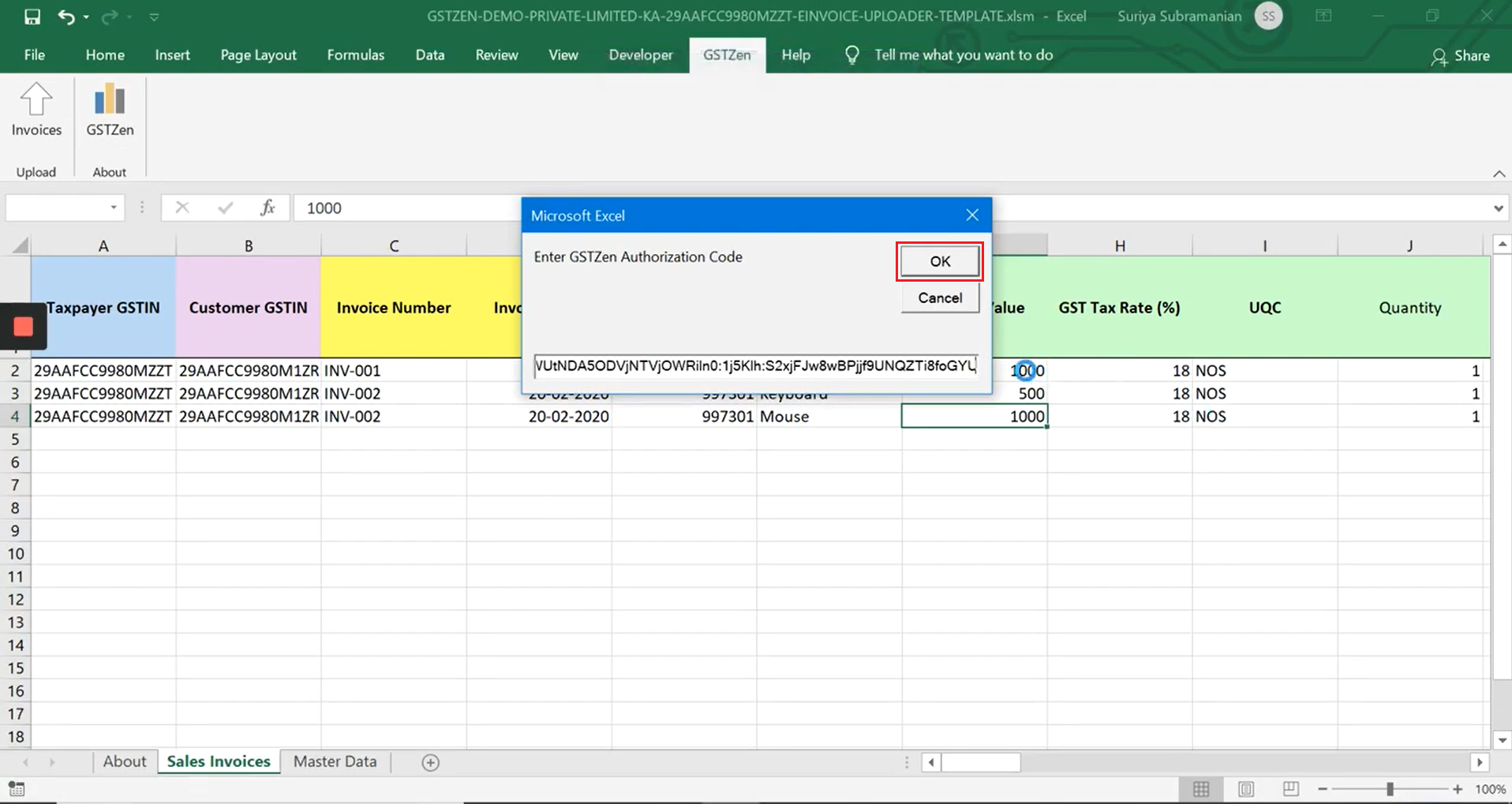 You will now receive a message indicating that the Invoices are successfully uploaded into GSTZen. Click on OK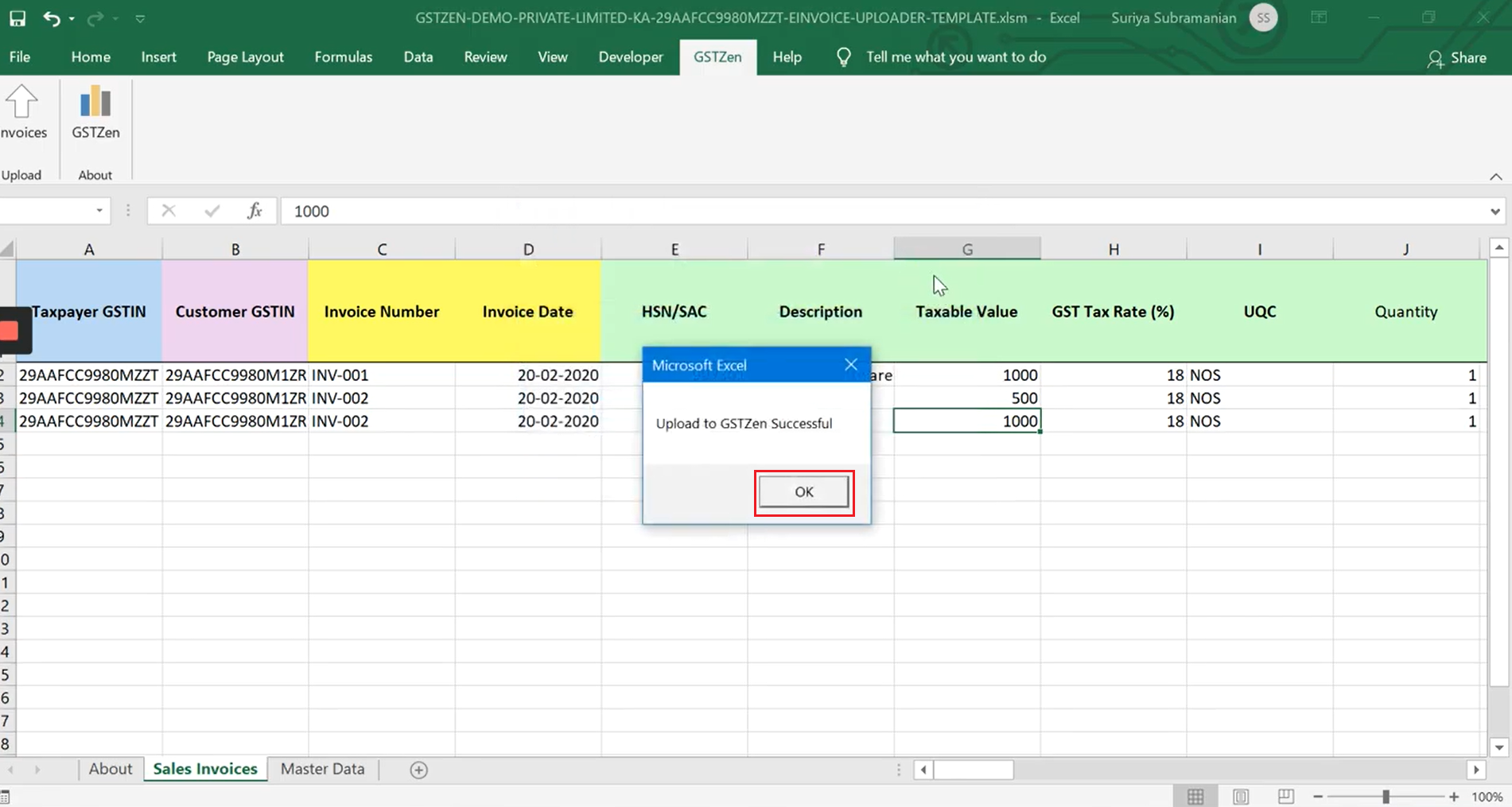 4. Review and Create E-Invoices
You will now be able to verify the details of the invoices uploaded.
| | |
| --- | --- |
| Summary | This tab displays a summary of the uploaded invoices which you may review to confirm that the invoice summary matches with the uploaded data |
| Errors | If there were any errors in the uploaded invoices, you will find them in this tab |
| Invoices | This tab lists the invoices uploaded into GSTZen |
You may now verify the Invoice details under Summary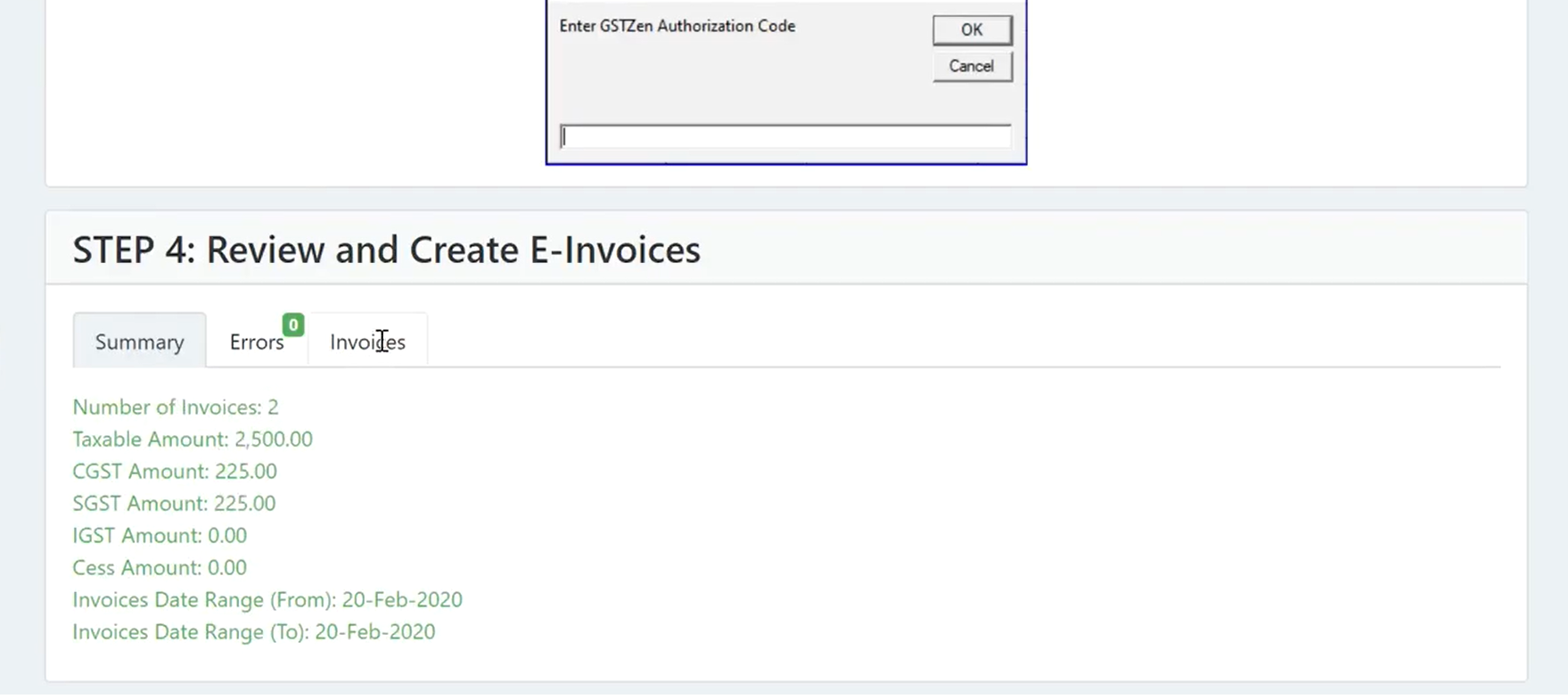 Under Invoices, click on Upload E-Invoices to upload these invoices into the government portal and create E-Invoices.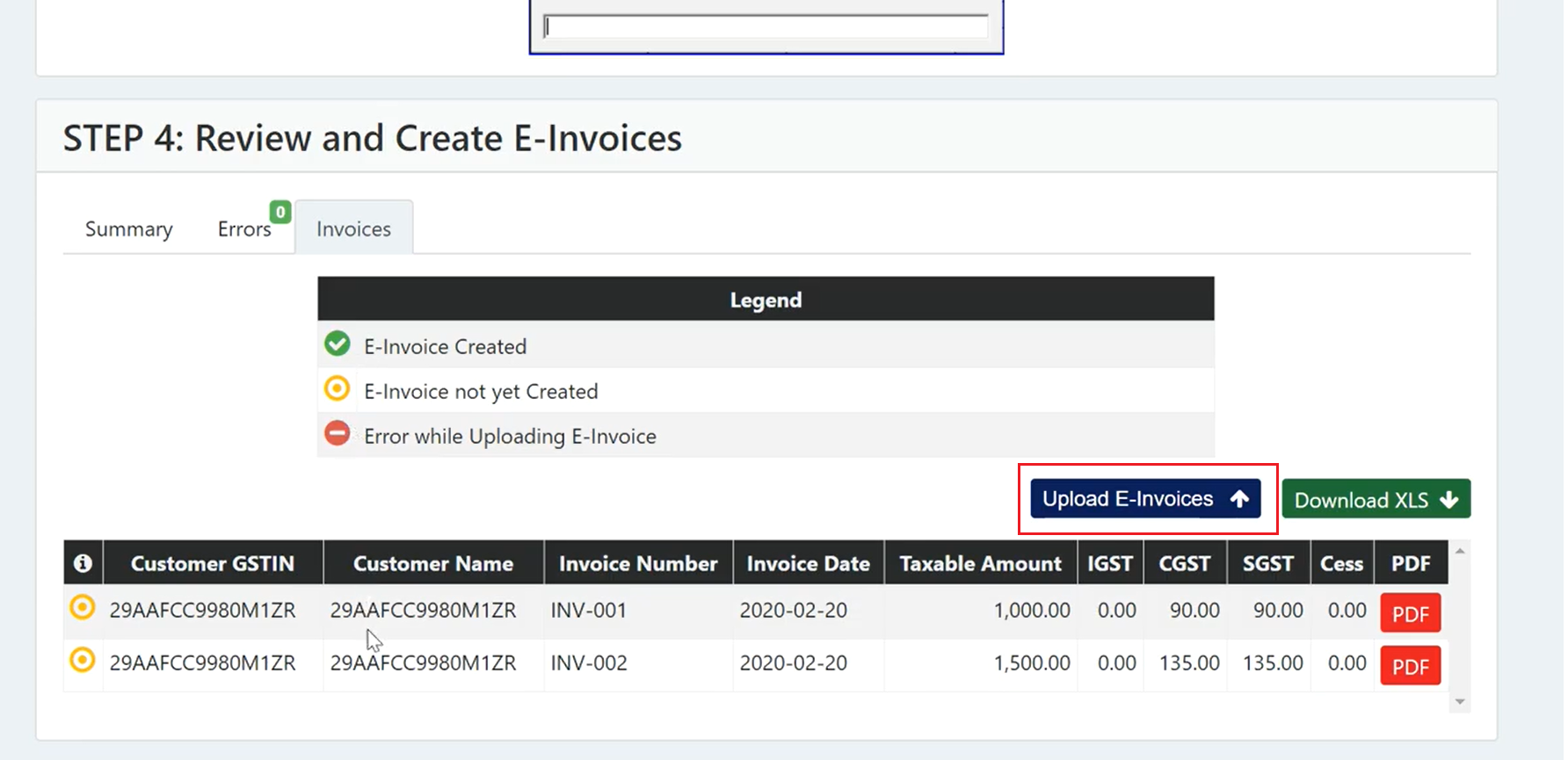 Click on Yes, Upload E-Invoices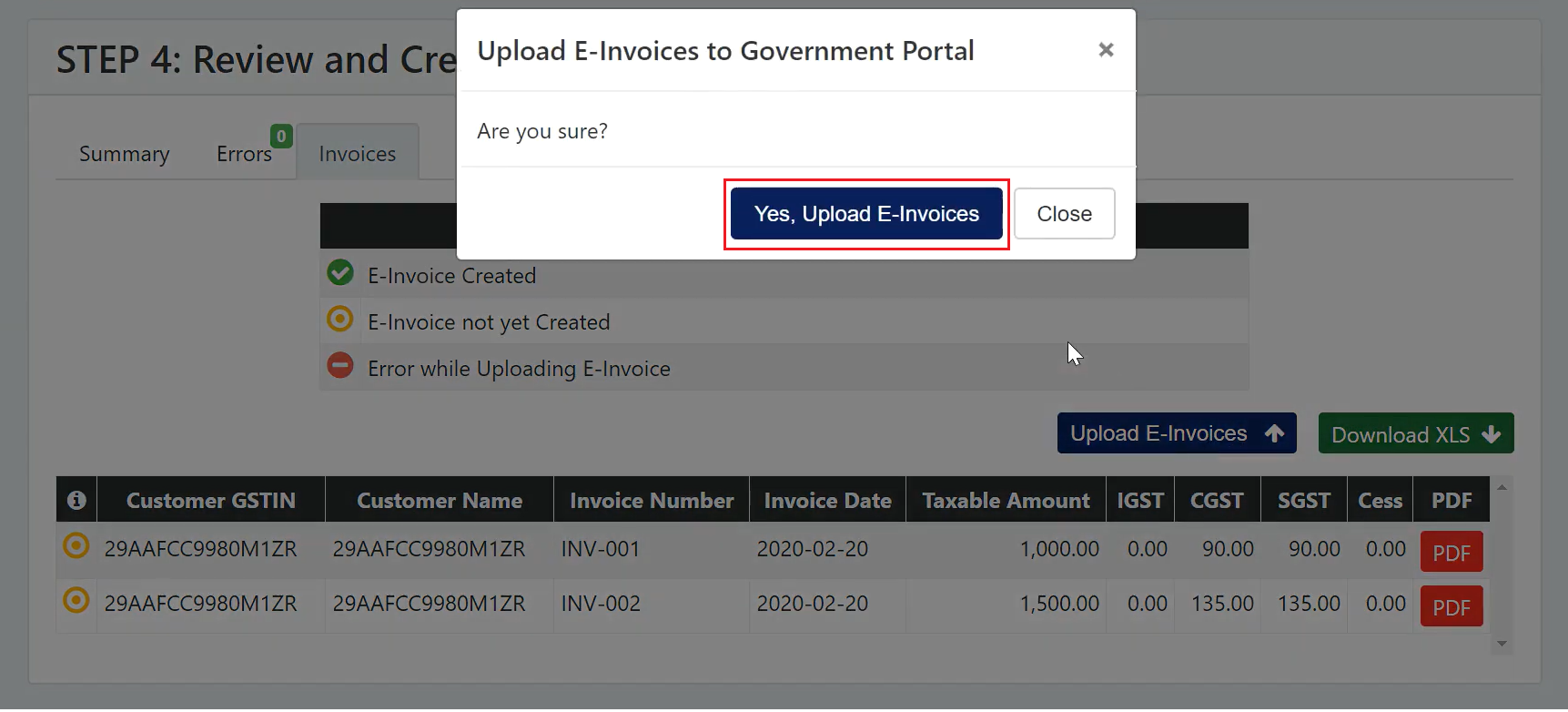 The Green tick mark next to the Invoice indicates that E-Invoice is successfully created.
Click on the PDF button to view the E-Invoice that contains the IRN and QR code in PDF format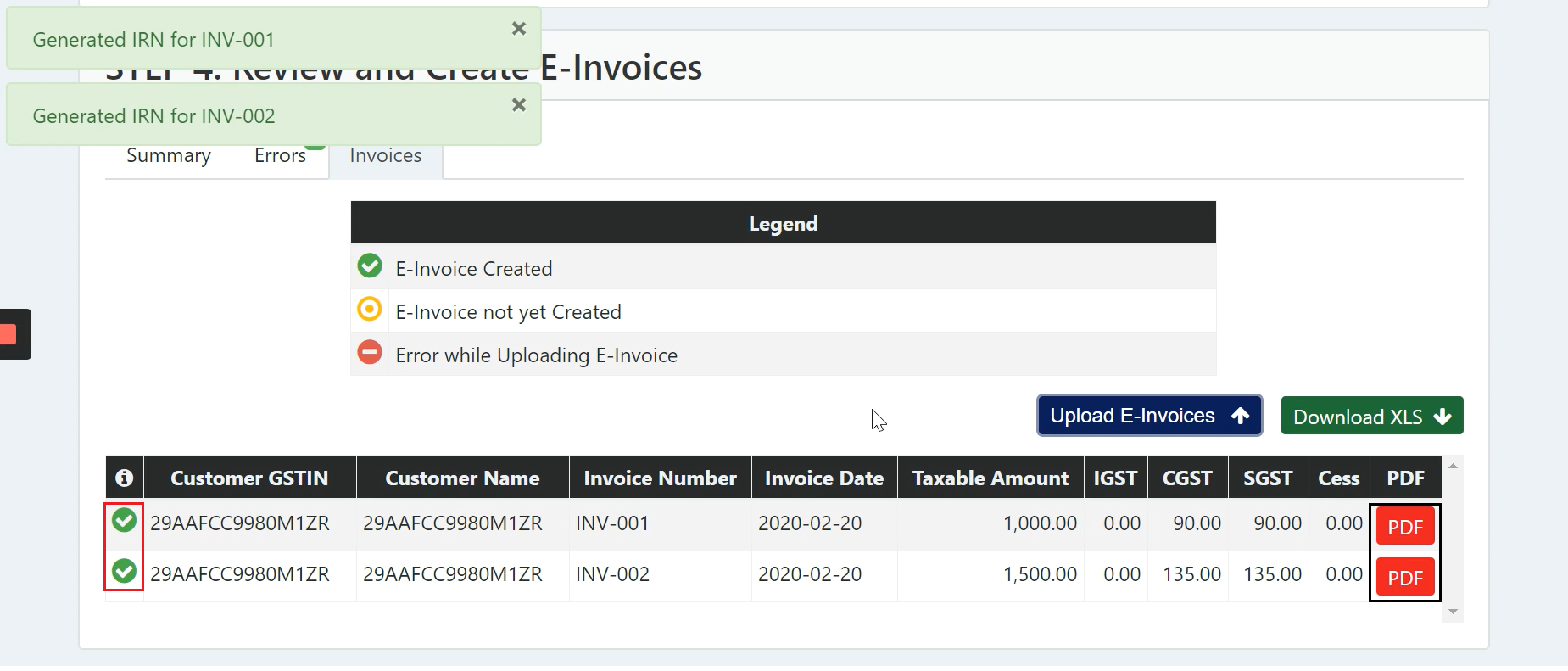 Note: You may also view these E-Invoices anytime through the Sales Register of GSTZen.