GSTR 2A Download from Govt. portal – GSTR 2A reconciliation
Through GSTZen, you can download GSTR 2A directly from the government portal. Hence, you do not need to visit the government portal or download the JSON file for reconciliation.
On the GSTIN Dashboard, click on Reconcile Books vs Govt. Portal Data under Quick Actions Menu.
Click on Purchase Register vs GSTR 2A and choose the preferred Financial Year for which you want to reconcile your Purchase register with GSTR 2A.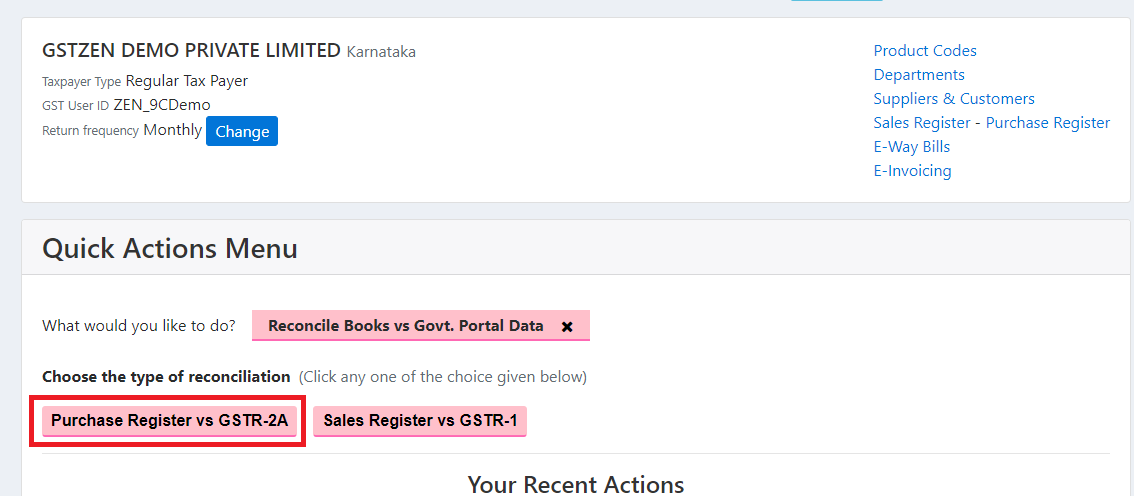 Click on Login to GST Government Portal with OTP or User name and Password. Either of the two options can be used to login to the GST portal for the purpose of downloading GSTR 2A into GSTZen.
Enter your username and click on Confirm GSTN Portal Username and Request OTP
Enter OTP and click on Login with OTP
Choose the checkbox for the period you want to download the report for, and click on Download from Government Portal